removing tank - awkward
Removing fluid from tank,
then lift tank from car.
NOT technical.. just time consuming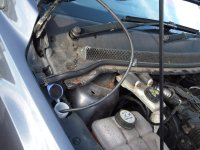 reservoir/tank + pump are generally located in the inner wing area.
before removing tank check pump doesn't make ANY sound..,
check fuses..!!
I removed the under bonnet liner, and unplugged the rubber supply hose, and tried BLOWING down the hose ( there MAY be a non-return valve stopping this)
I DO NOT recommend sucking.. as it can be pretty foul stuff :yuck:
safely jack-up car, remove road wheel for better access.
on the focus , I used a T30 Torx key to remove inner wing plastic retaining clips, then wriggled plastic liner free.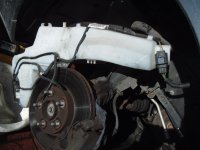 once liner is off you SHOULD be able to see SOME of the rubber supply hose(es) - front and REAR screen often share the 1 pump.
I pulled apart one of the hose couplers, and let the system drain into a filtered container ( a bowl is fine.. as you can filter the fluid on re-installing)