Joined

Feb 16, 2005
Messages

5,983
Had the afternoon off so got stuck on with the job in hand.
I love taking pics to help others so here we are:
The disc conversion - goodridge hoses, brembo discs, 240mm non vented, alloy callipers.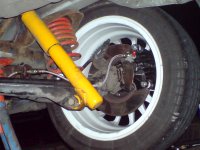 The powerflex conversion - rear arms all done (front done a while ago).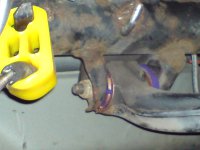 An outside shot of the wheels/discs.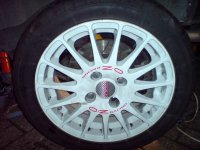 I noticed it offset the wheels changed when i did the conversion, closer in! Didn't see any mention of this before, but my wheels wouldn't go on lol.....good job i had the 4mm spacers handy
as clearance was VERY close before, but after the conversion (before the 4mm spacer) about 3mm too far in....so contacting the arm!
Brake pedal is much farther, but i'm sure that's a bedding/bleeding issue.
Handbrake isn't linked up yet, unsure what to do here lol...more reading before I start PM / asking
One hose is a bodge as they didn't have the fitting....its a female to male adapter as shown....I will be getting another one made up though.
Enjoy
Kristian