It will make no difference whether the panda is 2 or 4wd for this procedure.
Tools Required:-
Torque wrench
32,19,17,13 & long 12mm sockets
19,17,13mm Ring spaners
Good quality ball joint removal tool (This is optional as there are two methods of removing the bearing this procedure does not require the ball joints to be removed).
Knackered large screwdriver.
Small screwdriver.
Small or large hammer
Axle stand.
Plenty coffee if it's cold.
So Sort out your tools (you don't need as many as shown) and your shiny new Hub bearing.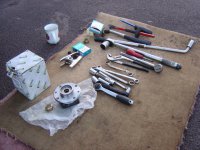 ​