Joined

Oct 1, 2017
Messages

6,877
Points

2,111
Location
I made two posts yesterday, one about my older boy's Punto which had a flat battery and one about my younger boy's wife's "new" car. This is a 2014 Mazda2 which she bought in March of this year after her trusty old Jazz had been trashed by a druggie/drunk outside their house - declared " beyond economic repair". With a pretty modest budget, we'd been to see a few absolute sheds and this one was a bit of a stab in the dark as it was at a small sales room in Peebles - That's a wee bit of a drive from us up here in Edinburgh, however it looked good online so we decided to take a chance on it as she'd really like one we'd seen earlier - it was at the poor end of the shed description though.
The garage is a new build showroom on a pretty derelict site on the outskirts of the town. In fact the building was not yet finished with just a concrete floor and the chap's desk with a computer on it against the wall! Oh well, we're here so lets have a look at it. Well, the chap himself turned out to be very nice. He told us he'd been in "the trade" for some years and decided to have a go on his own and was just setting things up. I had quite a chat with him and he really seemed to know what he was about. Had a good crawl around the car, "assisted" by 4 year old grandson who even crawled under the car with me! It all looked pretty good, by far the best we'd seen so far and I told her I doubted if we would find anything better for the budget she had. After a test drive she decided to go for it.
After she got it home I had another quick kerbside go over it and confirmed that soon it would need new front brakes, the mid section of the exhaust looked a bit rough and 3 of the tyres, which had good tread depth, were a bit perished and had small cracks Not enough to be dangerous or fail MOT but not ideal either. The 4th was almost new.
A couple of months later I arranged for my "tame" mobile tyre fitter to change out the 3 dodgy tyres and she's been driving around in it very happily. With them being away on holiday at this time I thought this would be a good opportunity to give her (the Mazda) an in depth going over so I collected her yesterday and she's sitting in my drive.
This morning, after taking Mrs J her tea and biscuit in bed - become a bit of a tradition - and knowing the front brakes were in need of attention, I thought I'd start with the back brakes, which, these days, are unusual in that they are drums. The car has a full service history for about the first 7 years of it's life when it's original owner had it serviced at their local main Mazda dealer. After that the record is decidedly sparse/non existant. So I was expecting the worst and "looking forward" to fighting her to get the rear drums off! but no! The drums have no corrosion, they look almost new! The retaining screws did need to be "frightened" a bit with my impact screwdriver but after they were removed the drums almost fell off by themselves. There's not even any detectable lip on the inside of the drums! The linings aren't even half worn, the pistons are free moving and there's no hydraulic leaks, not even a sign of moisture under the dust rubbers! There's even signs of recent maintenance with not much by way of dust and white ceramic grease on the backplates and self adjusters: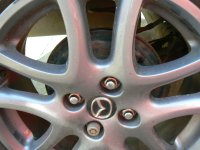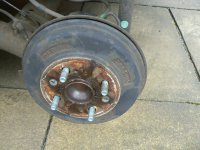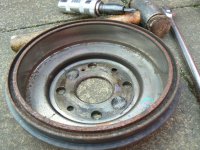 So wow! Maybe she's been "loved" after all. Just a wee bit of dust removal and That was the back brakes pretty much done! While I was under there I took a good look around. Oh, that's nice, back box, not quite new but in very good order: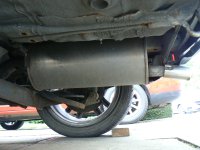 Centre exhaust section not so good though:
But it'll do for now. Rear spring pans? Just wish the ones on Becky look as good: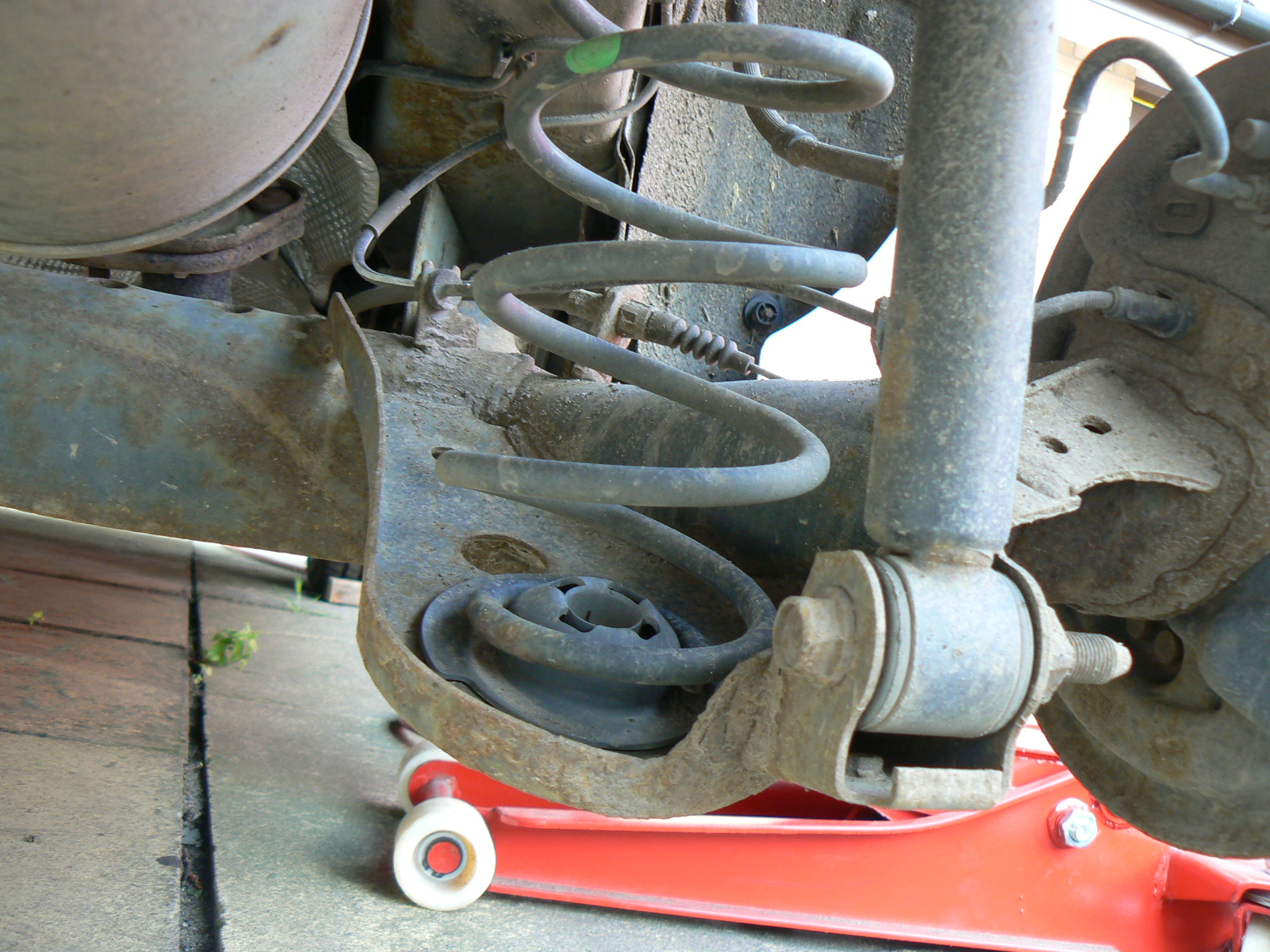 Just look at the length of exposed thread on that lower shocker mounting though? Here's the other one:
Gave it a wire brush and a wee coat of copa slip: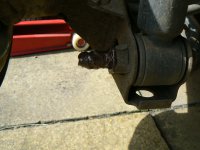 Ok, yes I know Copa slip is contentious but it's all I had lying around without going raking around in my shed - and you need a fortnight if you're going to do that!
Then I thought it was all too good to be true when I noticed this metal brake pipe: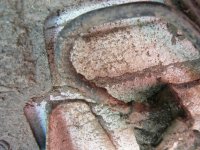 Oh Gawd, is that rust? but no, my luck was holding, it was just dirt. Here it is after a brush with a stiff bristled brush: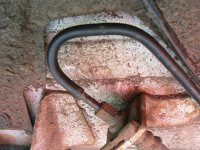 And a wee application of the good old Copa Slip on the more exposed bit. I'll be doing something more permanent about protecting these in the near future.
Ok, so now I know I don't need any parts for the rear brakes. By the way, ever seen a rear handbrake linkage like this: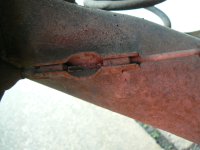 There's a short spur cable from the drum (on the left) with a nipple on the end and the cable from the brake lever on the right with a nipple on the end of it, both fitting into that joining piece in the middle - different eh?
So what am I going to need? Well I already know I'm doing the front discs and pads, wonder what that air filter is like?
This thread is getting very long now and I don't know if the forum can accommodate so much. Going to try to post this now and continue in a new post in a minute