Footwell lights: useful, practical, look good.
Wiring them to switch with the interior light: much more practical.
What You'll Need:

12v LED strips (just search for them on eBay - you can get 2 for less than £3)
Wire (2-core; about 3 metres)
Soldering stuff
Sticky pads/double sided tape
Basic tools - screwdrivers, pliers, you get the idea
Getting Access
You'll need to get to the wires behind the interior light and behind the A pillar. Both of these are really easy to get to. The light just pulls out; there's a slight indent on one side to make this easier.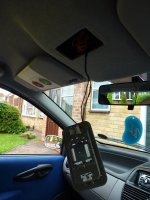 Similarly the covering over the A pillar is only held on by 3 plastic clips and just pulls away from the bodywork.