This guide will show you how to install reversing sensors in your Punto Mk2. I imagine the process will be broadly similar for other Puntos, but everything in this guide relates to my 1.2L 8V Punto Active Mk2.
What You're Going to Need:

Reversing sensors kit
I got this one: http://www.ebay.co.uk/itm/190322960277?ssPageName=STRK:MEWNX:IT&_trksid=p3984.m1497.l2649 - It was less than £15 delivered and they have a huge range of colours (note: "Reflex/Essence Silver" is a perfect match for a standard grey Punto)
The tools from your spare wheel kit
8mm socket + wrench/handle
T30 Torx screwdriver/wrench
Pliers/snippers
Cable ties
Soldering stuff
(optional, but recommended)
Electrical tape
Drill
(the kit linked above includes the right drill bit)
About 3-4 hours and a boat load of patience
The sensor kit included above includes a main control box, 4 sensors, power cable, alarm buzzer, adhesive pads for everything, a 21mm drill bit, instructions (good luck with these!) and brackets to adjust the angle of the sensors.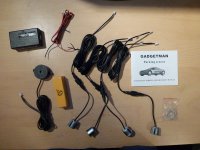 Heads up warning
- throughout this guide, be prepared for over-zealous use of cable ties, and excessive red arrows in images