Joined

Oct 1, 2017
Messages

5,918
Location
With family coming to stay for a few days over this weekend I thought I'd mow the grass and tidy up the garden yesterday. I'd nearly finished and was pulling up a couple of weeds from the edge of the slabs on my drive beside the Ibiza when I spotted what I thought was a stone in the tyre tread. Unfortunately closer examination showed it to be a screw!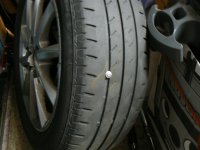 Even more unfortunately pulling it out produced the dreaded hissing noise we all hate to hear. What briefly depressed me even more was that the screw looked like the ones I'd bought when repairing my half whisky barrel planters. Closer examination though showed it to be different which calmed me down a little bit - I'd have felt really stupid if I'd punctured my tyre with one of those screws. It was only just long enough to penetrate right through, unlucky eh?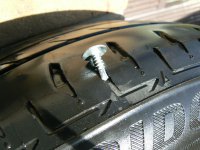 After my recent purchase of a Falken tyre for Becky the Panda, I've been looking into Falken tyres and reading a lot of "stuff" and reviews and tests, all of which seem to be complimentary. I'm especially interested in that they pretty much all praise the wet weather performance in particular. Looking at the punctured tyre it would have been repairable but the tread depth is just below 4mm and I like to renew a tyre when it's worn to 2mm and there's the age cracking to consider too so I decided to go for a new Falken. I decided to go for their newest offering the SN110
https://www.falkentyre.com/en/press...-tyre-sets-the-standard-for-wear-and-wet-grip
(It was an SN832 which I bought for the Panda)
Then the question was where to buy from when I remembered that Steven, at the wee Honda garage, had previously recommended a mobile tyre fitter who they use. I gave him a ring and he quoted a good price with fitting the next day as it's a tyre he doesn't keep (I get the impression he mostly buys in stock to order?)
He rang me twice to update me on his progress and arrived late this afternoon to fit it. His mobile fitting van was well fitted out with quality gear - I noticed his balancing machine is a Corgi which is a high quality machine. I had the wheel waiting for him and I prefer to fit the wheel back onto the car myself so it hardly took him any time at all. I've decided I really like this way of doing it. I get to jack the car up so there's no possibility of some "spotty youth" doing damage by jacking it poorly and/or over tightening the wheel nuts.
You may all remember I posted a wee while ago about trying to make my mind up between Avon, Barum, Falken and, I think, some others. I finally narrowed it down to either the Barums or Falkens but the Barums, which I've had in the past and like a lot, seem difficult to get just of late and their prices have risen substantially so I'll soon be replacing the other 3 with Falkens too.
When I bought a steel spare wheel for the Ibiza - which came with just a bottle of goo! - I fitted it with a Barum so it gave me a good opportunity to compare tread patterns:
The Barum, which has never been run on the car, is on the left with the new Falken on the right. The more "blocky" Falken tread pattern is very similar indeed to the old Bridgestone it has replaced and the Barum looks as if it should be able to displace water somewhat better than the other two but, from reviews I've read, the Falken actually has a better wet weather performance than it. Strange eh? However it must be remembered that wet weather performance is not just about displacing water - although that's important - but also about the compounding of the tread stock, which is where the mechanical grip comes from.
So there you go. An unexpected and unplanned expenditure but it's made me make the decision on the tyre choice. We are hoping to take a trip down south sometime in the autumn and by then I should have the other three tyres on the car. I'll keep you all updated if I find anything worthy of reporting.