Joined

Oct 1, 2017
Messages

5,582
Location
A nice day up here today, the sun has just come out after a morning of misty slightly damp Harr earlier on. I was up early and went a nice long walk (couple of hours). I like to stride out as much as I can when I'm on my own to get the blood really moving so when I returned I was myself slightly "damp" so decided to do my regular tyre check on the cars so I could cool off before going back in for a cup of tea.
Pressures all checked out and correct with no attention required. Condition check next and I'm quite disappointed to see the cracking on the Ibiza's Bridgestones is getting worse: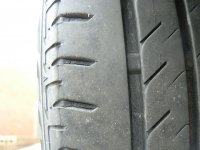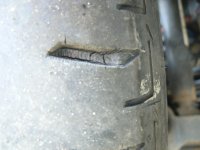 There's nothing dangerous about this relatively light cracking yet, it's just at the interface between tread stock and casing rubber - which are compounded differently so this is where cracks will often first appear - but it's disappointing to see on a "premium" tyre brand like this. The car was registered in 2016 and the tyres are date stamped 2015:
By the way, from what I've gleaned an unused tyre can be legally sold as new up to 5 years from manufacture but, as the general advice (see black circles etc) is to change tyres when 7 to 10 years old, I like to see any tyre I'm buying not more than 18 months from manufacture and younger if possible. I always ask to see the actual tyre they are fitting before they mount it on my rim. For those who don't know, your tyres will have a molded in number like this on one of the sidewalls (may well be on the inside wall - 3 of the Ibiza's are - which makes it more difficult to see). The first two numbers are the week it was made and the last two are the year. So this one of mine was built in week 42 of 2015 - which sounds very plausible for a car first registered in 2016.
These Bridgestones on my car are supposed to be good for fuel consumption (they're called Ecopia or something similar) and the car certainly gets good figures - 60 mpg on long trips - but they have always felt "hard" and "rough riding" so I suspect a very "stiff" casing construction (which would be logical if you are trying to reduce rolling resistance?) Personally I also find their wet grip is quite poor with wheel spin very easily invoked and she tends to "wash out" the front end on roundabouts. Ok in the dry though. If you try the "thumb nail test" on the tread rubber it's like trying to push your nail into concrete - so the tread rubber must be a very hard compound - maybe again to reduce rolling resistance? This may explain why they are only roughly half worn (around 5mm tread left on all four) at 5+ years old and approaching 22,000 miles. I think I'll leave them on for the summer and buy a new set at the onset of winter. Normally I start to think of new tyres at around 2.5 mm tread depth but I don't think I can live through another winter on these. A strange thing is that all four tyres have worn to the same depth, which is something I've never seen on a front wheel drive vehicle before - where fronts commonly wear at roughly twice the rate of rears. Also "strange" is that the front tyres show slightly more wear on the inside shoulders with the rears very slightly more worn on the outside. This effect is not severe - most people wouldn't notice it but I'm particularly interested in my tyres after having worked for Firestone in an "earlier existence" I've thought a lot about this and close observation reveals that there is a considerable amount of Toe In on the rears. It's set up like this I think, which probably explains this slight effect. Wear on the inside shoulders of the fronts is something often seen on many different makes of vehicle. Often attributed to incorrect "tracking" (Toe In/Out) which it often is, but can frequently be due to compliance in old, worn, suspension bushings - especially lower arm - which allows the wheels to splay out slightly under braking. The heavier you brake to more the effect and the problem is you don't pick this up by simply sticking it on an aligning machine. I discovered this when trying to stop my boy's old Ford Escort MK5 from going through front tyres. He drove it like a hooligan and the front inside shoulders would be through to the canvas before the centre tread was even half worn. Fitting new front wishbones every year kind of cured it but I was glad when he sold it.
I had been settled on a set of Avons as replacements but I'm very impressed with the Falken I put on Becky the other day so I'm back to swithering again - as ever!
By the way, The Falkens are what are refered to as "Mid Range" and this is usually my target purchase point. I just find "premium" brands so expensive and, like my Bridgestones, not always actually superior to Mid Range offerings. Another Mid Range make I think very highly of are Barum. The Falken on Becky replaced an existing Barum which was badly worn on the inside shoulder when I bought her. I rebuilt the entire front suspension (feature on the forum somewhere) and moved this wheel to the rear until I could get it replaced (where it's now been for the last 4 years or so due to my lazyness!) Interestingly the Barum is also a 2015 manufacture date but just look at it:
No sign of any cracks here is there!
Talking about "cheapies" Becky also has a real cheapie on her other rear wheel. It's one of these far eastern produced ones with a really "silly" name you might more associate with some aquatic leisure activity. Although almost unworn (6mm tread depth) due to Becky's very low annual mileage, It's got a 2016 date number and some slightly worrying, considering it's generally good overall condition and lack of use, cracking at the bottom of the tread grooves.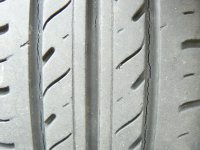 I'll probably sling it and put another Falken on later in the year. I don't know how you are supposed to differentiate between the far eastern "quality" products and the less good quality ones though?