Joined

Oct 1, 2017
Messages

6,285
Points

1,885
Location
Ok folks. Here for your delectation, a picture of my venerable mobile phone: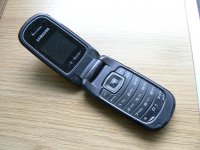 It does calls and texts but not much else. I've owned it for around 15 years - I think? - and I turn it on and put it in my pocket whenever I go out because Mrs J likes to think she can get hold of me if I don't turn up again sometime around when I said I would. Otherwise it sits on the kitchen worktop switched off. I don't really make calls with it, prefering to use our landline and I've probably done half a dozen texts with it - couldn't actually tell you how to do a text if you asked. It was free as long as I put £10 in it when I bought it and in all the time I've owned it I think I've put about £50 into it and there's nearly £20 still in it last time I checked.
My service provider started sending me messages saying if I don't use it they'll be cutting me off so I now call Mrs J's phone every Friday and talk drivel for a minute or so - they seem happy with this as I've not had a message for a week or so now.
I don't want to loose the it though as Paypal and my bank quite frequently email me codes I have to enter when making purchases etc and it's quoted as my emergency contact number for some things.
My children just can't believe I don't buy a "smart" phone and are frequently encouraging me to get one. I see a lot of people walking around doing "stuff" on theirs - and bumping into other people and lamp posts etc. What are they all doing that's so engrossing? I did actually enquire in an EE shop shortly before the lockdown but the costs seem considerable and they talked about data plans etc?
So, what's it all about? should I do as my children ask and buy one? If I do, what can I do with it that I'm not doing now without it and will this enhance my life considering the considerable cost of running it?
I really just can't get my head round why the kids think I need one, unless perhaps that if it's on a contract then they won't shut it down because I'm not making calls ? or maybe they still would? - help, anyone?