Tools you will need:
T30 Torx Driver
Small pry bar or flat ended screw driver
How to do it:

First, undo the torx bolts that hold the top of the bumper on.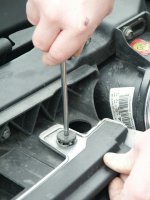 Next, gently pull the bumper forward and look behind it - you should see the lugs that hold the grille in place. With the prybar (or screwdriver) very gently and carefully lever the lugs out.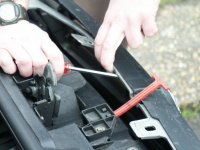 The bottom lugs are a little more difficult so be patient! Place the screwdriver underneath them and gently lever them towards you - you'll hear them pop once they're free.
You should then be left with the sight of this ....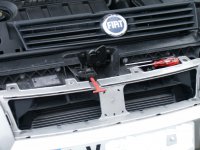 To fit the new grille, just use the same process in reverse order (top first so that the gille lays flat). The bottom ones again are more difficult - place the screwdriver above the lugs & ease them in, as before, you will hear them pop once they're in.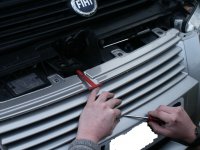 Now go and make yourself a celebratory cup of tea