CLEANING THE INLET CONTROL VALVE/ THROTTLE/ IDLE CONTROL/ BUTTERFLY VALVE
SYMPTOMS
Unsteady and too low idle rpm cycling between 700 to 500rpm. No power at tickover as engine is struggling and it's easy to stall. You put the aircon on just to bump up the tickover a bit. Tricky to put on a small amount of gas, nothing happens and then a sudden surge of power, noticeably tricky to accelerate smoothly from low revs.
In a nutshell, it affects rpm from 500-1200rpm range
THE CAUSE
Gunge has built up in and around the idle control valve, a butterfly flap in the air inlet controlling the amount of air entering the engine. It causes the flap to stick when the flap is nearly closed i.e. near the idle position and when the throttle actuator tries to move it the very fine amounts needed to attain a steady idle it struggles against the resistance
WHEN IT HAPPENS
Anytime after 30k miles depending on your environment. Shouldn't affect people on low mileage so much
DEGREE OF DIFFICULTY
Really easy on the 1.6, other variants should be similar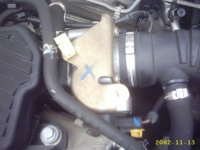 Once you've removed the top engine cover, the inlet control valve is real easy to find, right on top of the engine. Just back off the air inlet tube securing clip.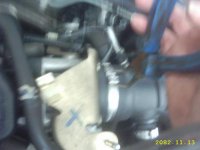 Right angled circlip pliers work well but you can improvise how to release the catch.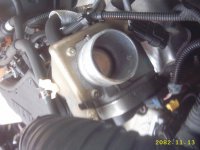 Pull back the tube and then swing it out of the way for access to the butterfly valve. Best to use a cloth to clean the valve area rather than kitchen roll so you don't lose bits and almost any cleaner like WD40 will do.
View attachment IDLE1.BMP
Push the flap carefully open and clean especially around where the flap lies when it's closed. Watch your fingers though
RESULTS
Afterwards, you should get a rock steady tick over of around 700rpm , noticably easier setting of small amounts of gas, even easier smooth gearchange, less stalling, in fact all round a very much nicer and easier drive at low revs