Ok so you get the iffernal Beep and check bulb message or you notice its a bit dark out front or that Nosey neighbour comes over with the "do you know you have a light out mate"
This guide shows you how
first ensure the ignition is off and the lights are set to off.....
Its also wise parking in a traffic free location last thing you want is to become road kill........
DRL / Parking light Bulb required 580 12v 21/5w

First off turn the front wheels to full lock to make some room...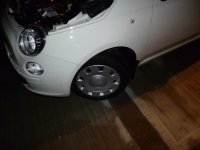 Next locate the inspection hatch...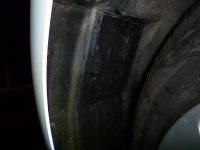 Then Remove the cover by nipping the little tabs together and remove the cover....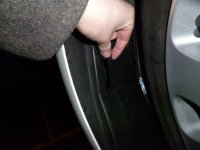 now locate the rubber cover pull the tab and remove....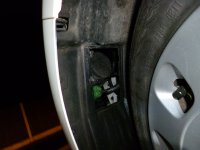 this exposes the back of the bulbs (in this case the DRL/ Parking light (580 bulb) (TOP)
Grip the black plastic i found it easier to get my left hand on it (passenger side and rotate it ANTICLOCKWISE until it stops turning..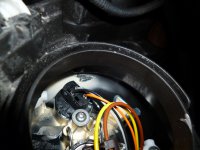 Next wiggle and pull the holder outwards this exposes the bulb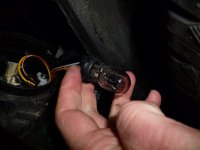 THE BULB IS A PUSH FIT ON NO ACCOUNT ATTEMPT TO TWIST OR TURN THE BULB OR IT WILL SHATTER.....
reassemble in reverse order having first checked you have the bulb in the correct way round if the wrong way round the DRL will be dim and the Parking lamp will be bright. so check before fully resembling.....
Main beam H1 55w bulb

Follow the guide above to access the back of the bulbs,...
then pull off the connector plug...
then release the 2 spring clips by lifting them away and to the side they will stay there once bent and pushed back slightly...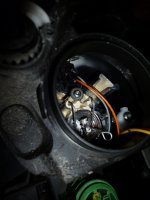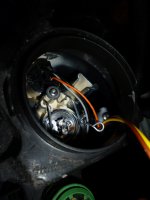 once the 2 springs are splayed apart carefully pull the bulb out making a mental note of how it sits (it is possible to get it 180 degrees out of line but then it wont sit straight)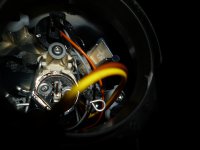 then remove the bulb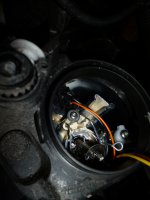 WHEN REFITTING DO NOT TOUCH THE GLASS ENVELOPE OR IT WILL CAUSE PREMATURE BULB FAILURE
INDICATOR 585 12v 21w Amber
First open the bonnet
https://www.fiatforum.com/500-guides/290540-fiat-500-basic-weekly-fluid-checks.html
then locate the back of the headlamp unit....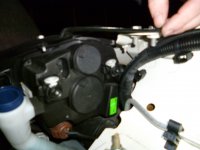 remove the smaller rubber cover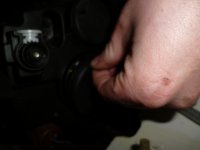 then grip the white bulb holder and rotate anti clockwise until it stops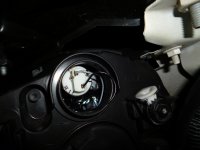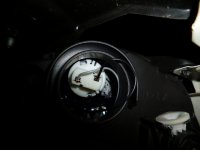 once it stops pull the holder wiggling it slightly and remove bulb again using a straight pull as per the DRL:
THE BULB IS A PUSH FIT ON NO ACCOUNT ATTEMPT TO TWIST OR TURN THE BULB OR IT WILL SHATTER.....
Finally...
THE HEADLAMP H7 55w
first open bonnet and locate back of headlamp......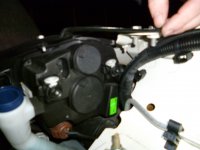 but this time remove the larger rubber disc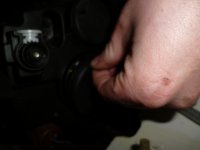 exposing back of bulb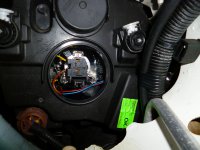 now press the little tab at the base and pull outwards...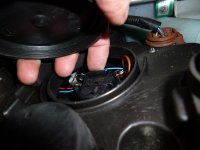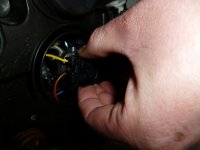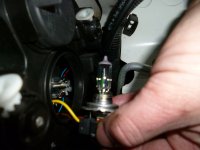 once bulb is out remove bulb with a firm pull after first noting how it fits in the holder as you could get it in 180 degrees wrong....
Again: WHEN REFITTING DO NOT TOUCH THE GLASS ENVELOPE OR IT WILL CAUSE PREMATURE BULB FAILURE HANDLE ONLY BY METAL BASE