Joined

May 1, 2005
Messages

5,607
Location
My fuel consumption had plummeted to Abarth levels in the last few weeks since my cambelt change. So much so I couldn't ignore it any further even though the engine was running sweeter than ever. Low 20s mpg and then 17mpg average consumption today couldn't be ignored any longer so i hooked up my laptop to see what was going on
Fault code P0105 stored =MAP sensor. Didn't even realise there was an engine fault, don't recall any engine fault lights going on
Anyway thought "i'll not erase the fault code stored just yet and do an engine run and see what's happening".
(Click to enlarge)
This first trace shows rpm (red line) v MAP sensor (green line) . Note that the MAP sensor output is almost flatline at around 30Kpa, especially when i rev up to 2000 and 3000rpm, hardly anything is happening. That's no good
Black line is pre cat lambda readout
So i erase the fault code and do another run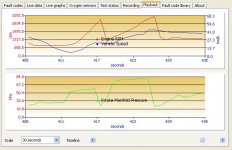 What a difference! Now when i increase the rpm sharply the MAP sensor follows like a mirror. Right up to 80Kpa! That's more like it.
Ok so another run now to test mpg and we're back to normal of high 30s mpg in town and 40s on a run
So the MAP sensor seems to be ignored for ever more if a fault code is stored and guesswork settings are used and it won't change and start taking any notice of it until the code is erased.
So, suddenly getting really awful average fuel consumption figures may be a clue that the MAP sensor is being ignored
NB the 1.2 1.4 1.6 and 1.8 engines use MAP sensors
Last edited: