Speed Reader of the Year!
Joined

Aug 15, 2007
Messages

44,236
Location
Hi all. This is my first thread so hope I'm doing it right!
I have just brought a 1993 (K-reg) 1108CC Panda Selecta. I am wanting to fit a Tacho / rev-counter to it. I'm normally fairly up to speed with fitting things and wiring but this has got me stumped. I can't seem to find the coil (just note, I have two other Panda's with the coil at the back of the engine bay), but can't find it or anything similar on my new Panda.
Its one of the later injection Panda's. I have looking in the Haynes manual to no avail.
Attached are some pics of where the HT leads go to. From each of these two modules (each taking 2HT leads) there are two wires running into the main loom of the car which seems to disapear into the cockpit (passenger side) around where the ECU is situated.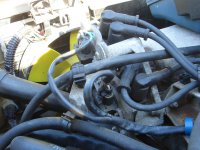 According to the haynes manual the car has an electronic tacho for the ECU to be able to calculate aload of things. Does anyone know anything about this and if it can be tapped off of?
If some one can please shed some light as to where I should be looking to attach the -ve coil cable from the tacho to, it would be greatly recieved!
ALSO
What is this by the fly wheel?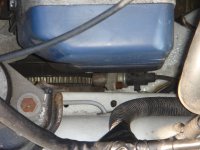 THANKS