With the Panda in 1st gear,
and chocks around the FRONT wheels.
I use a trolley jack on the centre of the rear suspension beam to raise the complete REAR of the Panda,
then I used 2 x axlestands - with wooden load spreaders on the 2 x rear sill / floor junctions (these have a large circular rubber bung)
with the car well supported on the 2 x stands( I used further trestles under the sills - in case of unexpected movement / failure)
[BREAK=component removal]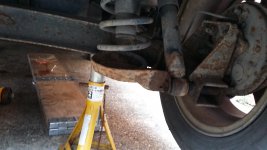 I undid the 2 x lower shock / damper bolts -18mm HEX head
then lowered the rear suspension beam with the trolley jack
once lowered you can lift the springs from the lower cups
[BREAK=Inspection of spring cups / pans]
I used a brush to move any loose paint / mud,
then a rotary wire brush in a drill to scour away the remaining loose paint / and surface rust ( mine were actually pretty good for @13 years old.)
MESSY JOB..!! ,
wear suitable protective equipment.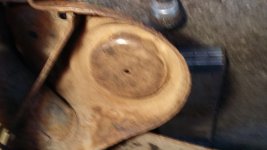 I used a THICK - rust preventing paint, to line the pans / cups - taking CARE to ensure the small drain holes in the bottom edge , and centre , of pans were still clear.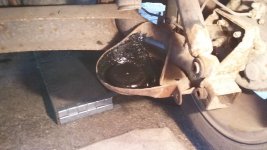 [BREAK=Damper replacement]
with the rear beam and wheels at a LOW position , access to the Dampers upper retaining bolts - 15MM HEX is now reasonable.
I found withdrawing the damper downwards and out was the simplest, , I gave the mounting points a quick wipe over with a cloth to make sure there was nothing wrong , or in the way for reassembly,
I then fed the new damper UP into position, and refitted the TOP bolt,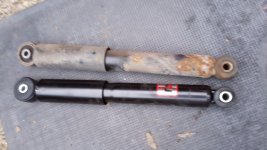 I then fitted the 2 x rear springs into the cups,
and used the trolley jack to raise the rear beam back up to the level for the dampers lower eyes to be back in line - then refit the bolts
once all of the rear suspension components are back in place ,
I used the trolley jack to fully RAISE the rear of the car,
roving my additional safety supports,
then the axle stands
once the underside area was clear - I then carefully lowered the Panda back to the ground ,
and finally torqued-up the 4 x mounting bolts.
Last edited: