Using the forum mobile apps
**
We are using PWA technology, so they are NOT installed through the App Store **
​
I had been holding off writing this until we had both Android and iOS apps released, which as of
iOS 16.4 (this is a requirement)
is now the case, so I'm happy to present to you instructions on installing both versions, as well as enabling push notifications
---
Frequently Asked Questions
What are push notifications?
A fancy name for instant notifications - basically the notifications and alerts you get in your notification bar and/or lock screen. Before we had this, we had to rely on email alerts which really wasn't the best. But as of now, you can get instant alerts as soon as something relevant happens on the forum, along with direct links to that action - nice!
What is a PWA?
PWA stands for Progressive Web App and at it's basic level, it allows you to install a website as an app. The benefit of this is you don't need to code separate apps as everything uses the same codebase. You still get an app experience though, with an icon on your home screen, notification badges (the number next to the icon) as well as the instant notifications.
Do I need to install it on my home screen?
For Apple, if you want alerts then yes, that's their strict rule. For Android, you can just enable push alerts without actually installing to your home screen (scroll to the bottom for a video on how to do that)
Can I decide what alerts I get?
Yes you can! You will always get notifications related to any watched items (so new replies, new threads etc) but you can decide separately if you want notifications for conversation messages, thanks, likes, quotes and many other things by heading to the
account preferences
page and ticking (or unticking) the relevant options.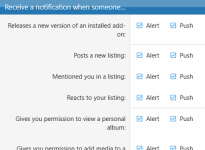 You might also want to turn off email alerts altogether now if you are going to exclusively use your mobile - one less thing to check
---
Installation Guides
You can follow along with the installation videos or click the button below them to display step by step instructions
Android
Click the hamburger menu at the top left of the site then scroll to the bottom of the menu and click the "Install" button.

Confirm you wish to install.

Click Add to actually add the icon.

Go back to your home screen and you'll see the wonderful new icon

Click that to open up the PWA.​

Head over to the

Account Preferences

page.

Scroll down until you see the "Enable Push Notifications" button then smash it!

If you get a "notifications blocked" alert, click OK, then "Allow for this site".

If all went well, the forum will send you a test notification and you're all good to go
iOS
Firstly, load up the forum in

Safari (it won't work in another browser)

- then open up the menu block at the bottom (

) and select "Add to Home Screen".

You can select the defaults on the next page, or give the forum a special name if you want!

You'll be taken back to the home screen, so can then click the new forum icon to load up the app.​

At this point you will be logged out, so you'll need to log back in.​

Once logged in, a new prompt will appear at the bottom of the page asking for permission to enable notifications, click the "enable push notifications" text

(If this doesn't pop-up - see the video below for how to enable them independently)

​

Your iPhone will then ask if you are ok with this, so click allow.

And then just like with Android, you'll get a text notification pop up to let you know all is well - noice!
Enabling Push Notifications
Separately
If you accidentally disable push notifications (or you didn't allow them in the first place) they can be turned on from your
account preferences
page.
Click on your user avatar in the address bar to bring up the account menu, then click on the Account Preferences link.




Scroll down until you see the "Enable Push Notifications" button then smash it!




If you had blocked notifications before, then you will be asked to reconfirm you want them - do so, and you're all set!
---
And there you go - should have everything covered now
If I've missed anything do let me know and please post any comments or suggestions on this thread if something else isn't quite right.
Other than that - enjoy the new experience!
Last edited: