Joined

Aug 10, 2003
Messages

125,248
Location
Then click quick links, in the drop down there is a link to unreplied posts.
they are new threads that no one has answered.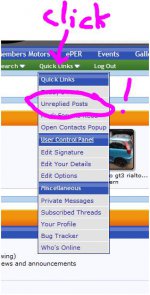 You could probably skip the first 2 pages of results as they wont be old.
some are from new people posted in the wrong section, (often in Lets talk fiat instead of models section) so you may have the answer to their problems but not spotted the plea for help!
If you don't know the answer you could suggest where they might get more help (be polite) or report the post for a move.
You could if you had the time and wanted to be extra nice use search and find a link to the answer for them.
Even if you only do this once every couple of months, if enough of us do it a lot less posts should appear with zero replies.:idea:
@ben not sure if the link is on the app?
Last edited: