Joined

Oct 1, 2017
Messages

6,272
Points

1,881
Location
In these stressful and worrying times I thought a look at something useful and completely unrelated to cars might be of passing interest?
Shortly after buying our house, many years ago now, I installed a gravity fed thermostatic bar shower. It worked well enough but could not be even remotely described as a power shower. Then about 3 years ago it suddenly stopped being thermostatic so was almost impossible to control the temperature. The thermostatic cartridge had failed. The company that made it had long since been bought out by another and they didn't make any parts for it any more. Only option was to buy a new bar unit. I took care to buy a unit supposedly optimized for gravity feed but, having fitted it, I found it just didn't pass enough water to get a decent shower. I dismantled it and it's easy to see the water passages through the cartridge are considerably smaller. Contacted the supplier who, very politely, explained that most modern houses are now plumbed for mains pressure (Combi boilers and pressurized systems) - I should maybe think about a pump? I looked into this and talked to a couple of trusted local plumbers and in the end bought one of these:
https://www.plumbworld.co.uk/salama...nJkiQ-JEjDjf24OuV8emcL0TRNjpMhh8aAoLNEALw_wcB
It's absolutely wonderful! gives a very invigorating flow. Mrs J recons you could strip paint with it! I just love it! There is a problem though. The increased water flow and pressure means that it tends to displace the shower curtain and if you don't notice you end up with the floor swimming in water. I'm on top of this but when guests come to stay it's a bit of a disaster. I looked at fixed and hinged shields but I've never been that keen on them, most I've had experience of still leak, and they are quite expensive. Also it's something else to clean because they look so grotty if you don't. Then I saw an advert for this:
https://www.youtube.com/watch?v=p3wHDTWLxdQ
Looked like it should work and it's cheap (which appeals to a Scotsman) so I bought one and fitted it: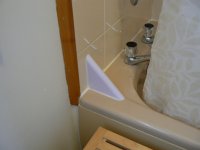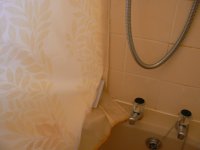 It works very well as long as you get the curtain pulled down tight before installing that magnetic clip.
By the way, sorry about the colour of our bathroom suit. Very "Abigail's Party" don't you think? It was very fashionable 35 years ago though. Thank goodness we didn't go for Avocado!
So there you are folks, hope that was an amusing little diversion for you?
Do stay safe won't you.
kindest regards
Jock
Last edited: