This is our 2004 1.2 Dynamic ('Psychopanda' after her number plate, not the way she's driven!), soon after we bought her in October 2018 at 92k miles, on the way back from Belgium with my girlfriend's otherworldly possessions (plus a bottle or twelve of the local tipple). Getting that lowrider style I've always wanted
It's such a fun and capable little car, I've quickly developed a real soft spot for it as it bounces and leans around the countryside! We got it for my girlfriend to learn to drive and took my Mk1 MX5 off the road. I guess I'm a small car person then
Most of my driving is on country lanes, and it's a hilarious thing to chuck about. I'd read they handled pretty well, but I didn't expect to be grinning quite so much when driving it! Being narrow helps on the lanes, yet I was surprised that it feels light and spacious inside, from the front seats anyway. Also surprised to learn that at 850kg it weighs less than my MX5.
It's taken me a little while to get it how I want it.
First was a new timing belt as, despite FSH, there was no record of it having been done, and I used this to drive the asking price down a bit.
I prefer to do my own servicing and, again despite FSH, the plugs, coolant and transmission fluid looked ancient. The car felt much better after the service, especially the gearchange. I suspect the transmission fluid had been a little low, too. It used to crunch a little changing down to 3rd, but that's gone now.
I found the Panda easy to service with good access, and didn't even need to jack the car up. Only the plugs are a bit fiddly, tucked away deep down at the back of the engine. Taking the throttle body off for cleaning improved access. Oh, and
FIAT
's coolant hose clips are just mean. My engine oil filter and
sump
plug were stupidly tight, also the
sump
was quite rusty, so I smeared the used engine oil over it. It seems I'm not the only one to do this...
I initially thought the door mirrors were hopeless, as I could adjust them to see either half my own car, or all my own car, and trying to move the housing was just flexing the mounting and I was worried about breaking it. But it turns out they had just seized in place, and penetrating fluid and spray grease soon got them free. I have to push mine slightly outwards of their normal position, and I'm not a big bloke.
Then I started finding all sorts of help on this forum! I had the dreaded power steering failure once, when manoeuvring out of a car park, and found the answer to my problems on here. I've cleaned the battery earth connections, and make sure I always let the battery recover from the shock of starting the car before setting off.
I also found out about the common rust spots of coolant return pipe and rear axle, and the mud trap behind the front springs (Thank you Dave McT!).
Whilst I had the car up in the air, clearing out the wheelarches, treating springs, shocks and rear axle for rust, I decided to paint my wheels white.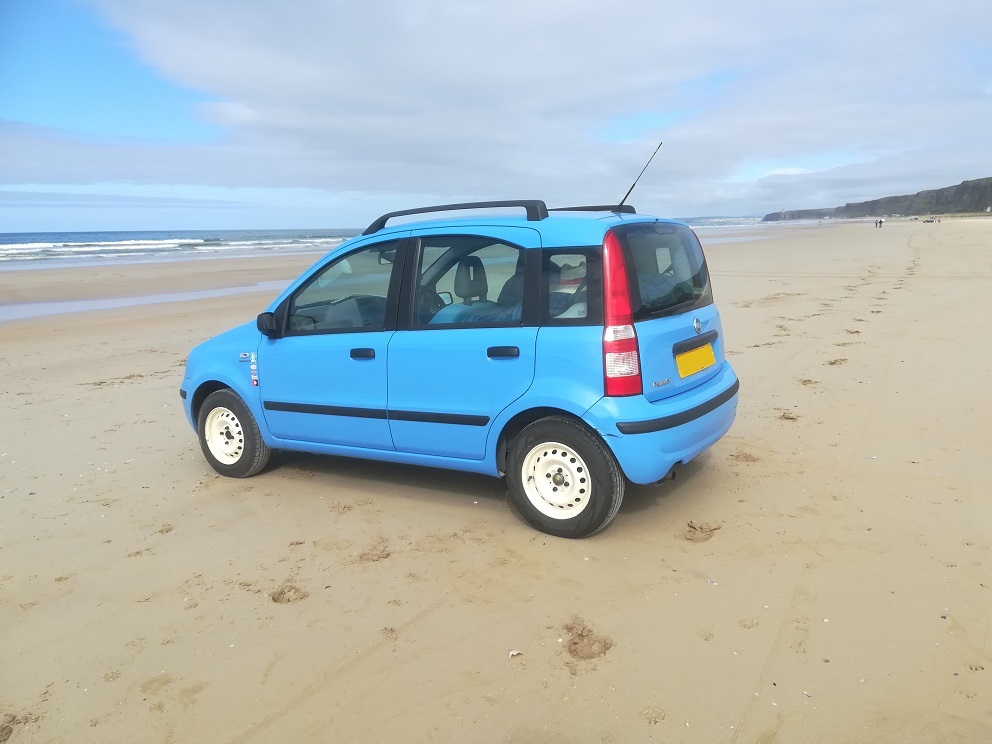 I just have an aversion to plastic wheel trims. The Panda's aren't too bad (at least they're not trying hard to look like alloys), but I've always had a soft spot for a painted steel wheel. I think they can look great on the right car, and I just prefer them to alloys on small cheap cars.
I thought the off-white would go well with my shade of blue and would give a subtle 'classic Panda' inspired style. Mine even has a tape deck! How's that for retro credentials? Once I'd done it, though, I couldn't help thinking about a junior rally car look. I'm not into modifying my cars, but I'm not against a bit of subtle personalisation and wanted to make sure my Panda wouldn't be mistaken for granny's shopping trolley. I also really wanted a rear spoiler. The 100HP looks so much better for it. Whilst I like the design of the basic Panda inside and out, the rear styling just seems a little abrupt to me, like it got embarrassed and left the room mid-sentence. So I ordered one direct from Team HEKO. Arrived quickly, easy to fix, I'm very happy with it.
Whilst treating the rear axle, I noticed the outer skin of the exhaust back box had rusted away, so wire-brushed and painted it black, and thought it looked a bit odd so added a chrome tail pipe tip. I never thought would ever do such a thing, but so many cars have them now that I don't think it looks so daft as I would have thought 10 years or so ago. Finally, I couldn't resist the urge to try the junior rally look with some decals. This is my first Italian car, and I've long wanted an excuse for a Magneti Marelli sticker! I wonder if their ignition will be more reliable than the Lucas & SEV Marchal I grew up with?
My remote key fob rubbers were in a sorry state, so I replaced the buttons, which had a happy side-effect of curing the boot lid of randomly opening itself! I've no idea why it should, maybe the collapsed boot lid button was interfering with the switch? After this, removing the boot handle and cleaning the switch has improved it massively, and now the boot lid opens
almost
every time!
We've used our Panda to go camping by removing the rear seats completely, folding the front seats flat and plonking an air-mattress on top. It was, er, cosy! I did sound the horn with my foot in the middle of night once or twice. But it was comfortable.
The only other conversion for camping was adding interior lights to the rear, which I did by connecting a dual USB socket to the boot light wires. Of course this only gets power when the boot is open, and even then switches off after a few minutes, so it's not much use for devices, but it does give options for USB lights to be connected to illuminate the boot.
Coming up to my first year of ownership, there are so many things I like about the car, and only a couple of things I don't: the rear axle seems like it could have been better designed (and built), and the incessantly self-cancelling indicators are daft (and unnecessarily tricky for learner drivers). Minor gripes for such a cheap car to buy and run, though. I find the follow-me-home lights useful, and I like the way the lights turns themselves off when you kill the ignition (instead of staying on and draining the battery or, even worse, beeping at me
).
Definitely bigger on the inside than the outside. It's amazing how much you can get in them, and I regularly chuck my bike in the back. We only intended to keep it for a couple of years, but now I'm not so sure!