Introduction
Hey guys, I've finally joined the "proper" part of the forum! Had a lovely 206 (with its own thread) but had it written off after a bad crash caused by a taxi...
Good things come to those who wait though, and since then I've got myself on the Fiat ladder!
Here's Celine (Celine Dion was on the radio as I turned it over for the first time, seemed apt!), she's a 5 door dynamic. Not the exact colour I was after but the price was suitable for me, being near to skint doing a masters degree.
Anyway here she is, will get some more tasty photos when I have time!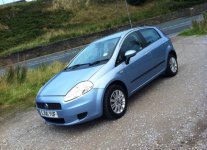 Won't be doing much if anything to it, hoping that once I've finished at uni I'll be able to upgrade to a T-jet/M-jet - but for now she drives like a dream!