O.K.
you'll be looking at this because you have an issue..,
the idea of the Standardised EOBD 2 Socket is that an over the counter product can be used to read the Fault Codes stored in the Vehicles ECU - Computer
generally they are located where access is "tool -free"
pull- off panels,
behind ash-trays,
or in the Punto - LARGE slotted screws you can undo with a coin..
Access is conventionally near the UK - Drivers right knee, and close to the main interior fuseboard.
on the Sample Marea (2001 110 JTD Weekend) the access is from BELOW the dashboard panel - involves some flexibility / contortion
[BREAK=the Socket itself]
In the pics I've removed the 3 x screws and the front panel from the main fuseboard.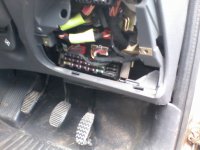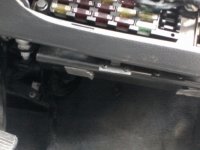 At the lower edge of the plastic dash panel is a Steel Metal strip ( BLACK)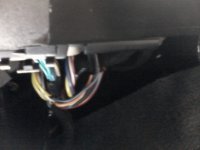 Just behind the strip ( under dash ) is the BOTTOM of the Fuseboard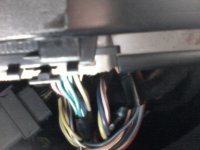 on the Lowest point is a BLACK plastic cover ( with a squeeze tab)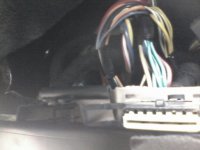 Remove the Cover , and you'll have the OBD 2 Socket - 16 pin with Tapered Sides
I'm using MultiECUScan on a Netbook, as it's designed specifically for FIAT Group Vehicles.
others use Torque App. etc for General Engine Fault code reading and clearing.
(I'm actually looking for Cruise Control Connectivity with MES Software.)
please feel free to add your experiences to the bottom of this guide.. as I'm sure there will be some changes over the models , and years.