Joined

Oct 1, 2017
Messages

5,911
Location
I can't remember if I previously mentioned that I'd decided to let our local VAG indy
http://www.audiservicingedinburgh.com/
do the cam belt on my Ibiza? Well, yesterday was the day. They open their doors at 07.30hrs so I was up at just before 06.30, had a couple of weetabix (chocolate version) and drove across the city to get the car there first thing - nice and quiet driving across the city at that time of day.
Their back yard is quite small but there were 2 spare parking spaces so I slotted into one of them and wandered into the main workshop to get into reception. There was a chap i didn't recognize working on a car as i walked past and he said, sorry but there's noone in reception yet. I got chatting with him about my car and found out some useful stuff during the conversation. Another of the chaps came across and it turns out he runs a Skoda with the same engine/gearbox combination as me so I learned some more. General opinion seems to be that this later belt driven EA211 series engine family are pretty bullet proof and there's not much wrong with the gearboxes either although it's not unusual for them to be a bit "rattly", tell me about it! - great stuff and such friendly and well informed chaps.
Then the reception chap opened up and I got her booked in. I'd already decided in the end to do timing belt - complete kit but not water pump as it's actually on the other end of my engine and completely separate. Auxiliary belt (doesn't drive the water pump either but does drive the alternator and air con pump - quite a "meaty" belt actually. I also asked for an aircon service as that had never been done since I bought her 5+ years ago and to change the long life plugs as I've heard some slightly frightening stories about how difficult it can be to get the coil packs off the deeply recessed spark plugs. Finally, just because I'm getting lazy these days, I got them to do a brake fluid change too (that was 5+ years old too! (shame on you Jock!). They thought that if all went well she should be ready for pickup late afternoon.
Then I had to catch a rather crowded bus all the way back across town to get home - Definitely felt a bit tense during the journey and made sure I was sitting under an open window with mask well formed to my face - pity it steams your glasses up isn't it. Back in the front door just before 10.00 am but now I'll be slightly worried for the next week about covid.
Once home I decided to have a shower - partly because being so warm I'd perspired quite a lot (quarter hour brisk walk from the bus stop to home) and partly because I wanted to have a good scrub down! Then we got ready to go out to my older boy's house, luckily on the south side not too far away from the AVW garage, for my other grandson's birthday. I really enjoyed driving Becky our Panda over there. The garage rang at 16.30 to say they'd just finished the car so I arranged to pick it up at 17.45 just before they lock up the doors.
They'd done everything as ordered and had no problems. Total bill £12 short of £600 which sounds a lot but once you take the VAT off it and break it down to the individual tasks and the parts and materials required - all genuine VW parts used - it all begins to look like a bit of a bargain.
I wasn't expecting the car to feel any different on the journey home as it has been driving very nicely anyway. It felt exactly the same as when I dropped it off and I couldn't have hoped for a better outcome. I think the aircon was blowing colder though. Mrs J followed me all the way home in the Panda and it was a delight to see it in my mirrors all the way home. I could almost hear the "Bullitt" pursuit music in my head - as if :slayer:
As we'd stuffed our faces on Pizza and birthday cake at the party we just made a cup of tea when we got in and then, as Mrs J high jacked the TV to watch soaps I decided to give the work done on the car the once over and I'm delighted to say the work seems to have been done to a high standard with nothing missing and nothing damaged - which is no surprise to me as I think very highly of this garage. Of course they will have removed the O/S/F wheel to get at the timing belt. Many workshops will just whack the studs up with an impact gun which can leave them so tight that you've no hope of undoing them at the road so I tried the nuts with my power bar and they were "just right" - probably done up with a torque wrench if I were to guess at it.
I'd asked them to leave me all the parts removed so I could examine them later - so now for the post mortem. I wasn't surprised to see the spark plugs looked as if they would have gone on for a lot longer - they had only done just over 22,000 miles but at 5+ years old I don't regret changing them and it may make life easier for the coils. So now lets look at the main event, the timing belt. (I am pleased to see the box the bits are in is a genuine VW parts box which obviously had contained the new belt kit) the tensioner and idler both spin smoothly, are not leaking grease and look undamaged so I'm sure would have been good for many thousand of miles more and I was impressed to see the tensioner is an all metal assembly, wonder why they didn't do the same with the idler especially considering the Main Dealer tells me the belt can be a "lifetime fitment". Here's a pic of the rollers and also the very large crankshaft bolt which has to be renewed as it's a use once stretch bolt. Has to be slackened as all the pulleys on this engine are unkeyed.
You can also see the VVT cam sprocket blanking plug which has an oil sealing ring on the other, threaded, side so they like to replace it to avoid leaks. So what's this "lifetime fitment" rubbish all about? Well, I was told by the main dealer that there is no mandatory recommended change interval on the timing belt on these engines. It gets examined at certain intervals (I can't remember what they said the intervals were as I immediately decided that wasn't for me) and only changed if it needs to be. There is a top belt cover which looks as if it could be removed to let you see the cam sprockets and a short run of the belt. Then you'd have to slowly, very slowly if you are doing a worthwhile examination of the belt, turn the engine over and examine the entire run of the belt for wear and damage. I just can't imagine too many workshops actually doing that? Also, in common with a lot of engines these days, many of the engine components, pistons, con rods etc, are pretty light weight to reduce reciprocal and frictional forces to get better fuel consumption and reduce pollution but this makes them less tolerant of abuse so I think a broken cam belt would spell the end for the engine. The cams are a bit different too with roller bearings behind the sprockets rather than plain bushed bearings again to reduce friction. I wouldn't fancy applying any large shocking forces to them, the rollers are definitely what you'd call "needles".
Next I pulled the old cam belt out of the box and got a bit of a surprise - It's a Dayco, says it right there on the belt! I've changed a fair number of Skoda and SEAT belts and, if it's the first change since new, the belts are always VW branded, so what's with the Dayco? I bought this car new so I know this is the first change. Ah well. - Then, almost as soon as I started looking at it I saw this: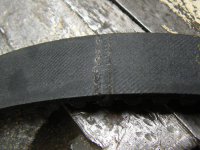 Boy am I glad I decided to renew this belt! I can't see anything which might have caused this damage. The tensioner and idler are as smooth as you like and the belt guards are close fitting and undamaged - it's a mystery. If you enlarge the image a bit you can clearly see that there are "hairy" threads pulling out of the surface of the belt. I don't think these are the main cords which give the belt it's strength but I really don't like the look of it and I'm glad it's been replaced. Would the main Dealer ever have found this on a quick cursory examination? I kind of doubt it unless the engine stopped with this bit of belt right at the top. So, "lifetime fitment" belts? Naw, I don't think so! In fact, as far as cars are concerned, "Lifetime or extended interval anything", especially gearbox lube? Naw, I know not so!
By the way, one last observation that I've long wondered about but never put much energy into finding out. Why do Dayco Timing belts - and, as far as I know, only Dayco timing belts, have white coloured teeth? Here's a pic of the old belt alongside a Gates belt I recently changed on one of the other family cars: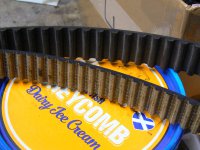 Anybody know? By the way, I'm doubly mystified by the condition of this belt as, although I would choose a Gates if available, I've used Dayco before and had no problems at all. Wouldn't really expect what I saw at 20,000 miles, must be external damage somehow but I can't figure out how unless the belt was somehow damaged during removal? in which case I hope the new one was put on with greater care? naw Jock. these guys know what they are doing, it'll be fine! Still, maybe I'll just take that top cover off and give the engine a slow turn over?