Joined

Oct 1, 2017
Messages

6,877
Points

2,111
Location
Over the last year or so I've done a number of posts about fencing and especially dealing with rotted off posts. As we all seem on here to be very practical people who would be likely to carry out this sort of repair ourselves, I thought you might like a wee update on how my repairs have weathered the recent severe storms, especially the "experiment" I've been making with the metal repair stakes.
The winds were fierce here but not as spectacular as some of the stuff I've seen on the TV. It shredded the fence between the flats and the garages opposite us and the man over the back from us at the end of the next street over lost his entire fence. He is not a DIY type and I know he got some workies to erect his. My guess would be that they didn't dig the holes deep enough! Also they've been doing broadband updating around here and they dug a deep hole in the pavement two houses down the street and installed a large access inspection pit which they left surrounded by plastic interlinked barriers (usual Telecom type barriers) and two quite heavy injection molded "roadworks ahead" type triangular signs on the pavement outside our house. The wind chased the signs down to the end of the road and flattened about half of the barriers, so a "strong" breeze!
So I was really very surprised to find all my fence posts not only still standing but, apart from one (more on that in a minute) standing absolutely vertical! As you can see in this pic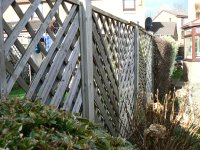 The post in the middle of the hedging has "Post Buddy" stakes
https://postbuddysystem.co.uk/
as does the one nearest the camera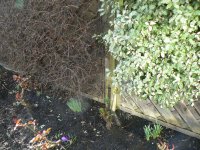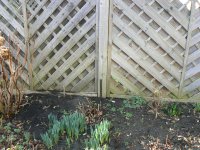 There is a third on the other side of the garden on which I used a couple of galvanized builder's straps - just to see if they would work as well.
https://www.toolstation.com/heavy-d...KBLw4srQ0n73q-dHQ3gaAl-5EALw_wcB&gclsrc=aw.ds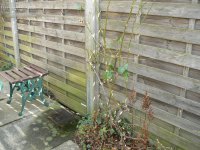 They've been just as effective as the Post Buddys and are a bit longer - 1 metre as against about 700, maybe 800 mm for the PBs. In fact this is no great advantage as the stake can't go any deeper than the bottom of the post where it hits concrete in the bottom of the hole. At the time I bought them the builders strapping was nearly £2 cheaper per strip than the PBs but at today's prices there's nothing in it. Quite handy to be able to just buy the builder's strapping locally though if needed in a hurry. In terms of effectiveness I'd say there's nothing between them though so I can recommend both. I'm now on a mission to find a local source who will supply the builder's strapping at discount. My neighbour and I have also installed the PBs on 3 of his posts - on the other side of his garden - and they too are absolutely untouched by the winds.
What did not come off so well was a post I replaced a couple of years ago which, although I dug a good deep hole (my usual 2ft+ deep) I only filled with one bag of quick setting post concrete - all I had at the time. The post has not snapped off but has become loose in it's hole and was lying at about 30 degrees off the vertical (and waggling to and fro in the wind) stakes will not sort this one so I'll just have to dig out some of the earth and fire in a lot more concrete. I've got it propped up with an old broom stick just now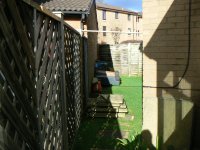 I'm afraid this story has a bit of a sad ending though because as I was out taking these pictures our neighbour over the fence at the bottom of our garden - behind my shed - popped his head over to tell me he's having the birch tree taken down.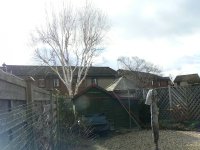 I'm very sad to hear this as I really like this tree but he tells me he's been advised by a tree surgeon that he'd be best to take it down now before it gets a lot bigger. Next door are very pleased though as it blocks the sunshine from their decking which is at the bottom of their garden and Mrs J says she won't miss it as it stops the sun shining on her washing in the summer which means it doesn't dry so quickly. Best I just keep my thoughts to myself I think.