Okay,So i have been making up some simple tables in excel for work,
on the works PCs(Windows 7),not sure of Excel version
saved on memory stick
Now to try and open them at home.
I get this box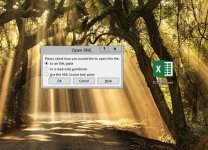 each one brings up an error and doesnt open the workbook
I get excel files emailed from various depts to home,which open fine?
whats up?
Last edited: