Now I know most of you will just go "SEARCH YOU DUMB BITCH!!"
However I think the FAQ on wobbly bolt might need updating as some links telling you where they are sold are now dead or they don't trade anymore!
Anyway here is my dilemma....
A while back I wanted some new alloys on my abarth, I decided to avoid all the wobbly bolt business and choose some that are fiat fitment
Eventually I find these, drop theman email where they say they are 6" wide not 7"
http://cgi.ebay.co.uk/ws/eBayISAPI.dll?ViewItem&item=8040661888&rd=1&sspagename=STRK%3AMEWN%3AIT&rd=1
"Brilliant!!" I think. Perfect for my car and as they are 98pcd i can use my original spacers and nuts that come with the abarth alloys
.
Imagine how ****ing furious I am when they arrive and turn out to be 100PCD with Wobbly nuts!! and the offset is 37 too!
Now I am in a dilemma as I can't use my original longer abarth bolts, so i start hunting here there and everywhere find lots of dead links etc
Today i rip the nuts out of the wrapper so see how long my "longer" nuts should be and discover this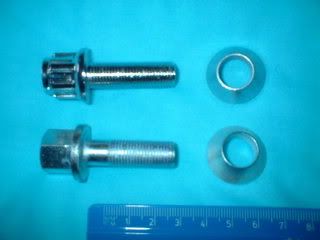 the wobbly bit on the locking wheel nuts and the other wheel nuts isn't attached (I never knew this as I haven't ever seen them before)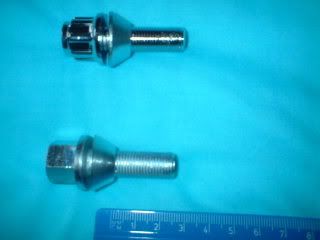 On the locking wheel nuts the useable threads goes all the way up whereas un the normal bolt provided with the alloys the thread starts where the sheaf ends. The useable thread is 28mm long it seems, so i thought I would need some with a useable thread of 38mm to use on the front with spacers. After a whiles thought i figured I could get normal nuts that are longer and use the sheafs supplied with the alloys
THEN :idea: What are the standards bolts on a sei abarth like? Does the thread go all the way to the top? Or does it stop approx 1cm before? Can I just transfer the sheafs from these onto the standard abarth ones (making them wobbly) and therefore the front ones should be long enough to use along with the original spacers?
I don't have my car here to check (its in for repairs STILL - don't ask!). So I hope someone can confirm/deny this
If I can, why has this never been mentioned/noticed before?
Last edited: