Hey F.F'rs !
Don't know if anyone else has posted this 'How to", but I did this Power Steering Column swap on my X-reg Fiat Punto HGT by myself in the cold month of December 2009 after it had failed the MOT fort not working. Well it's now November 2010 and at the time of typing this, since that time when I fitted it , the same week it PASSED it's MOT in a Government approved facility with flying colours.
Had to set the record straight before I get any doubters out there! LOL.
I have been told that this job should take around an hour, but mine was considerably longer due to having no instruction Manual or guide to work from and my taking the time to ensure this went according to plan, so don'tbe afraid to take your time as speed only comes with experience and practice!
If you are thinking of doing this job, a piece of advice ...
Only attempt this job if you are confident that you can pull the job off.
IF THERE IS THE SLIGHTEST BIT OF DOUBT IN YOUR MIND AS TO YOUR CAPABILITIES, THEN DO NOT ATTEMPT THIS, PLEASE LEAVE IT TO AN EXPERIENCED MECHANIC OR YOUR LOCAL FIAT SPECIALIST. I WILL NOT ACCEPT LIABILITY FOR YOUR MISTAKES.
You will obviously pay more, but at least it will have been done right if you can't do it
Column Buying Advice
1.
Obviously it is up to you where you buy your Power Assisted Steering Column from.
If you are really strapped for cash you could buy second-hand for around £60-£80 (or less at the time of posting) from E-bay, Gumtree, Loot, etc, but unless you're sure the Column code and the column itself is ok for sure, then I personally would be against this idea, as it could work out to be a false economy, especially if you have spent the effort to fix it and to have the same problem a month, three, six or twelve months down the line. Sure there may be a small minority of people who have managed to do this and have quite a long run with their column, but in terms of your own success and time, not knowing the history of the unit and no warranty, the chances of you having a second-hand column work for 12 months and beyond are slim to anorexic!
2.
You could buy the Power Assisted Steering Column unit brand new if you have £1000.00 burning a hole in your pocket!, which is an ideal thing we'd all like to do but if the Punto is worth less than the value of your Column, unless you REALLY like your car, is it worth spending that much on it ? Piece of mind yes, but even Fiat admit the column is not guaranteed that the problem could crop up again after a while.
3.
Buy it from someone on the Fiat Forum? Not a bad thing and sure you can do this if you feel confident about the seller, however I must refer to point 1. if I'm playing advocate, will they are Guarantee it as well ? I don't think they will somehow! If that is not an issue for you then go for it.
4.
This was the option I opted for. The cost of my Power Assisted Steering Column was WAY cheaper than what I'd been quoted previously by Mechanics and alike.
I opted for a RE-MANUFACTURED UNIT, which was ALREADY CALIBRATED and the company I sourced my unit from was ECU Testing LTD and they have a shop on E-bay or I believe you can do phone orders too
. Their unit at the time of posting this How-to, only cost me (at the time of posting prior to VAT increase in jan 2011), £224.00 and is guaranteed for TWO YEARS. They even supply some FIAT dealers with some of their units too! So that was good enough for me. The only stipulation they have is that you send your OLD faulty unit back to them which is obviously why you get it cheaper when they receive the unit then the Guarantee will kick in also,
If you send it via UPS they said it would cost (at the time of posting), around £12-15 to send. I sent mine via Royal mail and it cost around £20 via Special Delivery. If you don't return the old unit you will be charged an additional £80 and the warranty does not activate till it is sent back to them. So be warned!!
Now on to the main event!
!! PLEASE NOTE!!
During this process you will need to swap your ignition barrel over to the new column! They are usually held in place by two long bolts and rivets if original part, which cannot be unscrewed you will need two similar bolts with appropriate nuts to secure them to the replacement column if not already supplied! Try also to take care as to not let your barrel fall apart when removing otherwise you will have to play a guessing game of how it went together so take note of assembly if unsure.
You will need Hex-bolts/allen Keys, or a Hex bit from an interchangeable screwdriver set, an assortment of phillips Screw drivers, with one or two of them being around 15-25 cm in length so you can get at some of the screws located deep in the steering column trim.
A ratchet set and/or spanners and a large adjustable spanner to remove the Boss nut of the steering wheel when you take it off (yes you will have to take it off). Which brings me nicely to my next point...

BEFORE DIS-ASSEMBLING ANY PARTS OF THE COLUMN OR STEERING WHEEL MAKE SURE THE ROAD WHEELS ARE DEAD STRAIGHT BEFORE STARTING AND REMOVING THE STEERING WHEEL !!
I had no helping hands with me, so l lined mine up with long planks of wood against the tyre walls, using the back wheels as a reference to align the front wheels. once you're happy you've aligned the wheels and the steering wheel is straight or as near dammit as possible, park it up, disconnect the battery and wait for 30 mins. I actually forgot to wait the 30 mins and this resulted in my air-bag warning light staying on once I fixed it - DOH!! :bang:
1. First, release the adjustable steering column lever at the base of the column to the 'down' position, then undo the bottom of the PAS columns plastic trim ensuring you keep the screws together once removed (Pic. 1).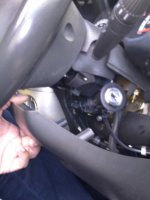 2. Remove trim that covers the interiors Fuse-Box (Pic. 2), taking care not to break the plastic hooks that are attached to the rungs below the Fuse-Box...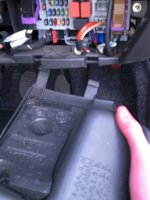 3. Then moving on to the ignition barrel (Pic. 3-6) carefully detach the connecting blocks from your ignition barrel taking note of where they go, if unsure don't be afraid to label them in a way you remember,
( I wrote on bits of masking tape to help me remember where things went).
Remember it's nothing to be ashamed of to label things up it's just good common sense! Otherwise you might end up in wire re-connecting Hell lol.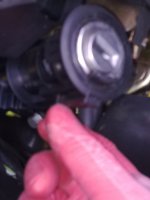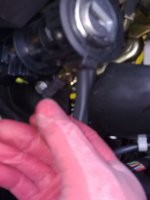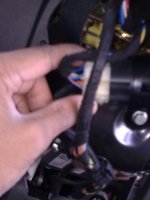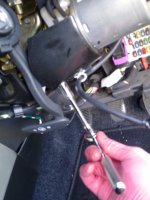 4. Next you'll see like a black metal casing on part of the base of the PAS column (Pic.7-9). Use your ratchet set or spanners to remove this...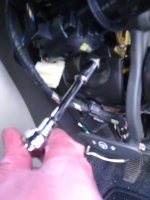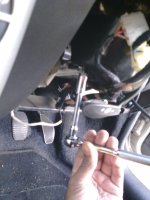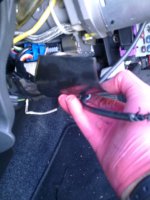 5. When you remove this part (Pic.10), you should find a plastic grommet holding a single black cable. Detach this noting how it is attached and where (Pic. 11 & 12).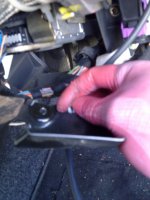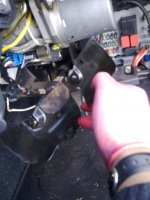 6. Moving to the Steering Wheel, grab your Hex tool and start loosening the bolts housed on the back of the Steering Wheel (Pic.13-15), taking note of how tight the bolts are screwed in as you need to know how tight they went on when you re-attach it...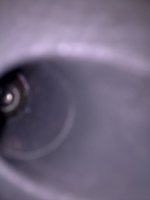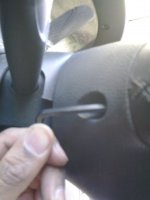 7. Once you have done this you should find that the central part (Horn) can come off (Pic. 16).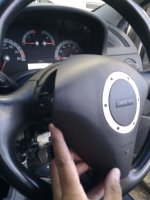 BE VERY CAREFUL AT THIS POINT AS THIS IS WHERE YOUR AIR-BAG UNIT IS HOUSED SO PLEASE TAKE CARE AND ATTENTION WHEN DETACHING, do it slowly don't yank it off !!!.
8. After slowly removing you'll see on the back a green coloured module (Pic. 17) attached to the centre of the horn/air-bag. Gently prise this off...
9. Next remove the metal plate covering the central Hex nut that is centrally seated on your Steering Wheel also detach black wire that is coming through your steering wheel from the connecting block inside the steering wheel (Pic. 18-20)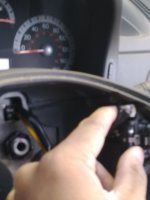 10. Remove nut (Pic. 21), using appropriate sized ratchet. You may need someone to hold the wheel for you whilst you do this. I used my legs to steady the wheel when I did it, not ideal but it worked!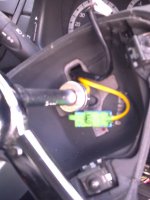 When the Steering Wheel nut is off remove washer surrounding the thread at the top of the column (Pic.22).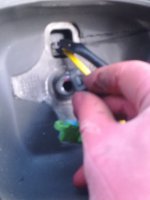 Now the steering wheel may have settled in position since last time it was taken off so tap the back of the Steering Wheel with a rubber mallet or if you don't have this then use the heel of your hand and firmly strike the back of the wheel in a North, East, South, West type of pattern. The wheel should only require a few taps to come off but DO NOT YANK IT OFF!!. The reason being (Pic.23-24), you still have the Airbag Sensor Wire and Black Wire still in the wheel at this point so please be careful!.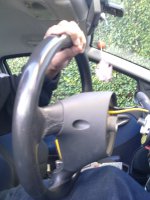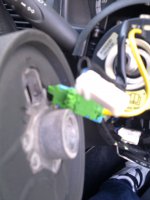 END OF PART 1 of 2