Introduction
So we set off at 8:45 to get to crewe station to catch the Virgin Voyager service to Glasgow at 9:55. We arrived at Glasgow central at 3:15 to meet a nice bloke who kindly sold me this...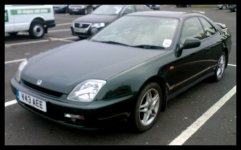 ​
A Honda Prelude 2000 Sport 2.0i in tasty dark green. Full tan leather interior with all the extras you could ever want. 75k on the clock with a full Honda service history. Just had the cam belt done too. Well looked after by a Honda enthusiast who only sold it due to moving into the city centre, 5 mins walk from his work, so he never used it.​
Drove back the 280miles to stoke in around 4 hours. Perfect drive all the way home and really loosened up once on the motorway. Could tell it hadn't been used much at first! Everythign is nice and tight and i'm very happy. Only used half a tank (around £50 per tank) on the whole journey too!​
I'll get some much better photos tomorrow if I have time. This was taken somewhere along the M73 just outside Glasgow earlier today with my phone.​
Any opinions?​