Introduction
About time I did this thread. Been a long time coming but I have some spare time at work today and thought I may as well introduce you all to my Punto.
Around May this year I was looking at replacing my Honda CRV with something better on fuel as whilst the CRV was the perfect family motor, 20mpg wasn't doing the wallet much good and I had actually taken to getting the bus to work. A small fiat seemed ideal so I started searching around for a Punto.
A nice yellow MK1 popped up on ebay. Looked tidy, in price range and seemed genuine. Got onto the trader and popped down to see it. On viewing it was filthy and had obviously not moved in months (later confirmed by the trader he had had it 6 months...) but it started and ran well and looked in good condition under the layers of grime. The interior was immaculate and unabused. We agreed a price and I put a deposit down.
A few days later I came back to collect the car. Still filthy and hadn't moved from its spot. Great, I've giving you the best part of a grand and you can't throw a bucket of water over it for me
.. ahh well.
On the road on the way home was great. Instantly noticed a few potential problems but it handled great and sounded so good. The 16v has a lovely raspy quality to it and the engine just loves to be revved! I stopped by the jetwash on the way home and gave it it's first clean in a looonnngg while...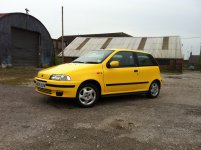 After that is when the problems started
One of he problems I noticed on the way home from collecting was a rather erratic temp gauge and the cooling fan not coming on when required. Quick call to Euro Car Parts and I had a new thermostat and a fan switch on order.
I promptly replaced both and all apeared well. Set off for work the next morning to notice a trail of coolant following be in my rear view mirror :bang:... The waterpump had failed! Off I went to get the bus
Onto Euro Car Parts once again to order a new waterpump, cambelt and tentioner. Few days later I found the time to get it all replaced...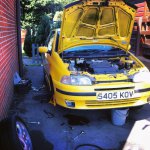 The car ran great again although was hard to start from cold some mornings and would hesistate a little until warm. Not to be too disheartend, I continued to drive the car but the problem gradually got worse...
Numerous treads on here lead me to suspect the Head Gasket being at fault so on to Euro Car Parts I went (I must be a great customer at the Stoke branch). Headgasket set and headbolts ordered which came a few days later. By this time, I was back on the bus for my commute and the car was off the road.
My first day off with some sun, I decided to make a start... Stripped it all down, head off, only to find the head gasket in pristine condition :bang:... What I did find though was a split vacume hose between the inlet manifold and plenum chamber which I replaced. Head gasket was replaced regardless and everything went back together over a few days.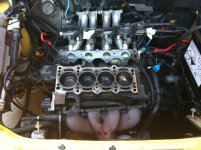 The first start up was an interesting one. I head read that the hydraulic tappets may be noisy. They were. I ignored this temporarily but it became a concern when they hadn't quietened after a good 20 miles. They wern't just a little noisy. They were pretty loud
The drive home the day after it being back on the road I found myself on the side of the road with a car that would no longer start. The engine span with no compression and I feared the worse, the AA recovery driver said nothing to cheer me up either
Back home and over a few days I stripped it down again to find the cam belt had jumped, knocking the timing out and bending a number of valves :bang: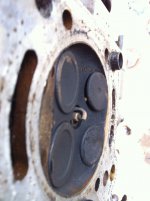 Back to Euro Car Parts... Second new head set and head bolts and ordered a full set of valves and the various tools needed to replace them. My kitchen table soon became a workshop and over a period of days I replaced the valves and had the car back together. The first start again was a very interesting one... Nothing worked. The car was totally dead... A few checks later and it appeared the battery was totally flat from standing a few days. A quick trip to my local factors and great success :slayer: The Punto worked, and it worked well! Much hoonage commenced...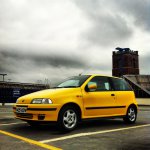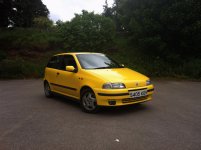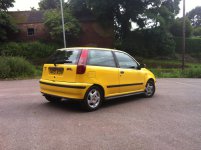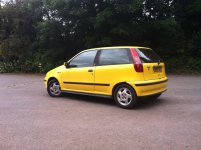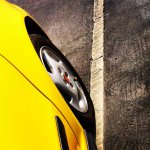 That isn't the end of this unfortunate tale for there was still numerous problems that need my attention. One being a front wishbone which I replaced one morning and another job which I put off for months but plucked up the courage recently to give it a go ... The heater matrix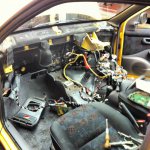 Such words send shivers down the spine of many a seasoned mechanic. Possibly the most dreaded job of all
In all honesty, it wasn't that bad... Around 6 hours later, it was all back together and back on the road with a non leaking matrix and a heater that worked wonderfully!
So this is my Punto as it stood yesterday morning...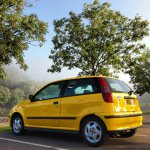 There are still a few jobs I will be tackling some day, and probably some sooner as the MOT is due in November.
6 months in and I wouldn't wish the joys of Fiat Ownership on anyone but I forgive it for its faults when it gives me 45mpg and a grin every time I bury the go pedal to the floor :devil: