Hi All
Been looking on the latest
ePER
for wipers as I think this winter's weather has killed mine off (they are the originals and the car is 2.5yrs old so I can't complain!).
Looked on the wiper slide and saw a modification, reference 10453. The C10453 (car's built before the mod) are fitted with the same wipers I have (obvious since the mod date is 07-2005, which seems to be around the date of the Grande Punto going into production). D10453 cars LOOK like they have the new Aero style wipers on them.
The mod applies to both 3 and 5 door vehicles, and translates into "New Arms and lowered brushes (wipers I expect) TERGICRISTALLO to PRFILO"
Picture attached. The new blades are number 10 and the new arms are a modified number 4. Anyone got any thoughts?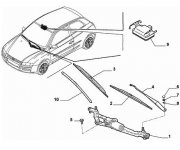 Last edited: