General Information
I'm new here, sorry for the obscenely long post, not really sure where I could put this post so I've gone with putting it here.
Nearly a year ago, my first car was written off by an idiot trying to get some easy money out of their insurance, that first car was a bright red 2004 Panda 1.2 Dynamic, it's fixable but the insurance wouldn't pay for it, I took the write off and paid to keep the car to fix up, but I needed a car to get around pretty soon, so I was offered a lift to my dad's house to go and spend time with the many projects on his drive (including my poor 1.2);
I got there, looked in the garage, and saw a mildly battered metallic blue 58 plate Panda with a broken window motor, marks and dents all over, and I was happy to have a car again- but I wanted my 1.2 back.
Getting on for a year later, and I no longer want my 1.2 back, I still want it fixing and back on the road, and I still kind of want to keep it, but I can't face the idea of getting rid of my Active.
The Active has been a far better car than my first, it's had two repair bills in the year I've had it compared to the millions of gremlins plaguing my first car, and it just drives so much better. I've realised that I've struck it lucky with that tatty blue car.
I've spent the last week finally cleaning it up the way it deserves, 2 hours of generous T-Cut and TurtleWax application still hasn't got rid of the worst scratches, and it still has those black plastic bumpers that I can't wait to get rid of, but that day of polishing and cleaning up and all the parts my dad and I took off that first Panda to fix up this little blue thing have turned this blue Active into a car I would not get rid of for anything.
I spend my spare time looking online at Panda 100HP's that would be so much better suited to twisty Yorkshire roads and car parks full of Corsas, or at old MK1 4x4's that I would kill to own and restomod into an off roader that would keep up with my dad's impulse bought Discovery II with a snorkel and mudplugger tyres. And the thing is, I start to plan out buying one, and then I get back to how I can't face parting with my Active.
I can finally face parting with my first car, mostly because my Active was made right from parts of that 2004 Dynamic with a million electrical problems, my Active has the 14" alloys from my first car, the badges, the passenger side window motors, the badging, the roof rails, the originally missing tow loop and other miscellaneous parts that it needed.
The pictures below are of my Active this week after some much needed TLC, some of them next to my sister's car that she still can't drive and that I sneer at every time I pull in next to it, simply because it's a little hatchback that's not my Panda.
The last picture is of my first car, after we pulled it out from the engine bay of a Nissan Juke that came out of it with a punctured radiator, a caved in wing, and an engine that struggled to take it away. That red Panda still runs with minimal effort after that crash (so far we've only put a new unpainted wing on it and it still needs a door), but was a technical write off because it just wasn't worth it to the insurance to pay for repairs.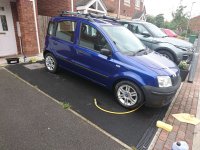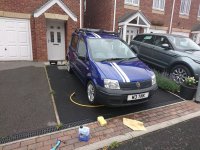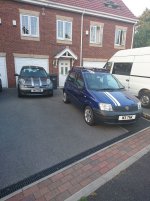 I've only written this because most people I know aren't fans of little European cars like the Panda (even though half my family are classic Mini guys and my dad has an Innocenti MKIII Cooper S in bits as one of his projects) and most aren't even really car guys anyways; my girlfriend can't stand Pandas, but she still named my blue 1.1 for me when I didn't even want to keep it longer than I had to, his name is Jago (because he's blue, still not sure how she worked that one out) and I'm gonna keep this car going as well as I can for as long as I can (starting with resprayed bumpers).
My first car got me on the road, this 1.1 turned me into a Panda guy that only considers three types of car as good cars: Land Rovers, classic Minis, and Pandas
Thanks for reading