On tuesday morning I was rear ended at the lights on the way to work.
As i was setting off I was forced to stop because of the traffic ahead and a refridgerated fish van went into the back of me.
Gutted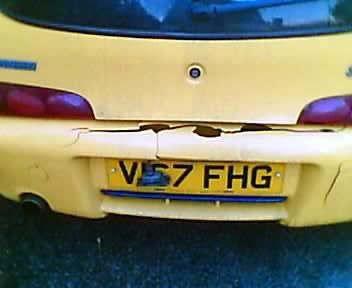 most of the damage is cosmetic bumper, number plate lights, osr and nsr lights, mesh on bumper need replacing.
Structure wise the back panel does too, is not badly damaged just been pushed forward so the boot doesn't catch without slamming it really really hard (which i don't have the energy to do - needs an angry man lol)
I took it to a garage for a quote on the way back after the accident and was quoted at £1100 to have it all repaired to how it was before (parts £350ish labour £500ish the £150ish for paint and then vat on top.)
I'm gutted cos someone told me the book price for a Fiat Seicento Sporting with abarth kit with 37k on the clock in v good cond is only £1000-£1200
so it might get written off cos its too uneconmonical to repair
The car is currently with a third party company who provided me with a courtesey car and are dealing with the other guys insurance (i'm not fully comp). They will get someone out to assess it offically, hopefully soon I will know if it can be repaired or beyound econmonical repair and if so how much to buy it back.
Just when I'd sorted my new alloys too
lol