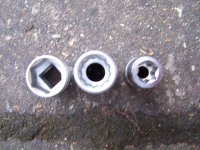 In addition to various normal tools you will need a Mole Wrench (or similar) and two Torx sockets an E18 (18mm) and an E16 (16mm). These are star shaped - the right hand one in the picture. Someone told me that you might get away with using an ordinary socket if it's the many sided type shown in the middle of the picture as opposed to a normal hexagonal
socket as shown on the left of the picture.
Chock the front wheels, get the car on an axle stand, remove the rear wheel and then use the jack to gently support the hub.
Using the E18 Torx socket, remove the long bolt that goes through the bottom of the shock absorber. This is the star shaped end. The normal nut shown at this end in the picture is a captive nut (welded on) so don't bother trying to undo it.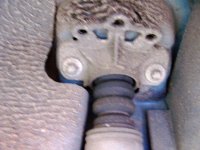 Using the E16 Torx socket remove the two nuts that hold the top bracket to the body of the car - the shock absorber is then free from the car and can be removed. On the drivers side of the car I dound that the plastic inner arch actually covered the right hand nut so I had to cut the corner off using a stanley knife to gain access.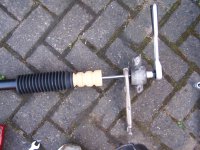 Clamp the top end of the shock absorber shaft in the Mole Wrench to stop it turning and remove the top nut from the end of the shaft using a 16mm socket. The Mole Wrench will slightly damage the shaft so it's important that this is done to the top of the shaft becuase this part never passes through the internal seal. Remove the top bracket and then the plastic bump-stop and gaiter.
Slide the platic bump-stop and gaiter onto the new shock absorber, clamp the top end of the shock absorber shaft in the Mole Wrench to stop it turning and fit the top bracket. Tighten the top nut using a socket (the new one was 17mm on mine) - I also had to leave the socket handle almost out of the socket in order to make room for the threads, as shown in the picture.
Put the new shock absorber back in place and re-fit the three bolts. Ideally they should be tightened using a torque
wrench, the top two to 59 ft lbs and the bottom one to 96 ft lbs.