first jack the front of the car up.
turn the steering all the way left.
undo the inner clip on the driver side steering rack gaiter (the large clip just unclips and is reuseable)
slide the gaiter down the tie rod so its out of the way.
youll now see something like this: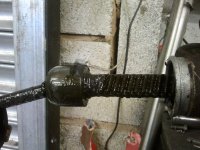 now clean a small area of grease off as shown here: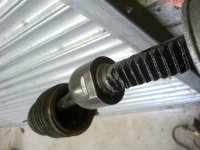 apply a small amount of plasticine/play doh/maybe even chewing gum if you must
. (i sprayed a little wd40 onto it after sticking it on to make sure it wont stick to anything inside the rack)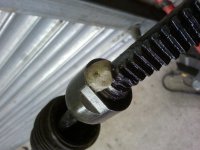 now lower the car and turn the steering right very slowly until you get the wheel to gearbox clearance you want... a simple fool proof way of doing this is to find something as thick as the clearance you want (bit of wooden plank) tape it to the end of the gear box. so that when you steer the wheel will be limited by this and not the box :cool.
now steer it all the way back.
jack the car back up and you should have something looking like this: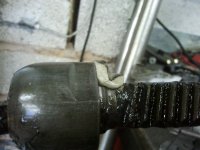 if it has not touched inside, add a little more plasticine then try again.
once done measure the thickness of the plasticine shown here:
now contact me or an engineering shop to have spacers made
*edit* please note that the thickness of the shaft of the rack are different on cars with power steering so measure the thickness of the shaft while your there. (no need to be accurate as the pas shaft is a LOT thicker and i just need to know which rack im making it for
)
Craig