Introduction
Hi guys, well i got a bit of a bargain with my punto even though i had to travel from kent to rainham essex to collect it but it was well worth it lol. heres some pics of how it looked when i got it.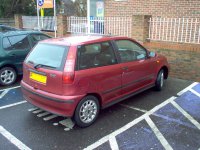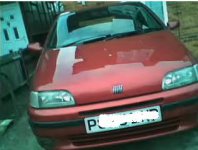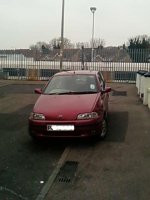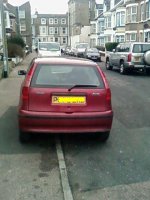 1st of all i decided i wanted to spray my centre console, so i took a trip to a local motor factors & bought some paint & plastic primer, this is what it came out like.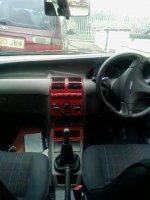 Then i decided to get a powerflow exhaust & heres some pics of it on the car.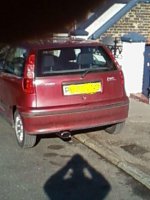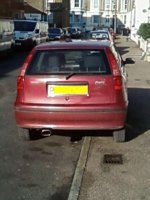 Then i started seeing more & more kitted punto's especially on here & other websites & i caught the modifying bug like most of us but didn't want to go down the lines of buying bodykits like the combat & x-treme 1's like everybody has got so i was looking on the classifieds of this site & came across a front bumper that was being given away by somebody on here but unfortunatley i was to late & just a couple of hours before i contacted the person he had listed it on ebay lol, however i was lucky enough to win it & i decided too collect it the next day. this is how it looked when it got put on.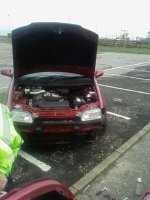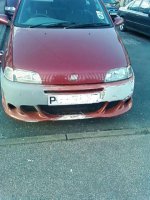 Hmm, at that point i didnt know whether it was looking beter or worse lol & was wondering whether to just leave the car standard, but then i thought why not carry on kitting it as its something i've always wanted to do.
i then came across a pair of clear lights for cheap and also somebody else was selling a smooth boot on ebay all the way in brighton which is 100 miles away from me so i decided to buy it & collect it on a day i had free. heres some pics of it,the same day i went to collect the boot my lights came aswell. (sorry about the pics, was taken from my phone)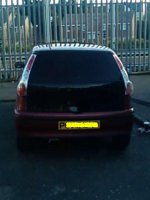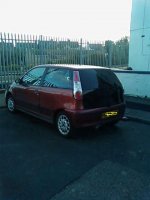 i wasn't that keen on the clear lights so decided to take them off & put it back to the standard ones instead.
after i done all this i accidentally reversed into a post lmao which i wasn't happy about but luckily it didnt smash the boot just the rear quater panel, at this time i was feeling absolutley gutted but it could have been worse i suppose. unfortunatley i dont have any pics of the damage but it has all been built up again & i have some pics of it. as it was being built up i decided i may aswell debadge the bonnet, rip off the door strips & tidy up the little dents & marks that the car has also decided to put the extra skim of filler on the bumper & primer it so that it didnt look such a mess , heres some pics to see what i mean.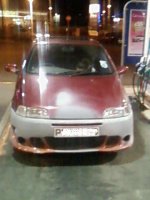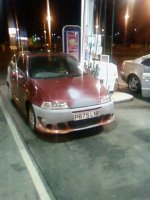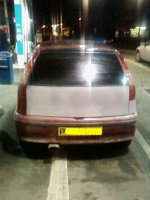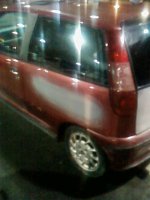 I had some alloys from my old car which was just sitting around & realised that they would fit my punto as long as i have a set of wobbly bolts, so here i go on ebay again looking for a set but i couldn't find them any cheaper than 30 pounds including postage which i thought was pretty resonable, i was going to buy them but at the time i didnt actually have the money so decided to wait & then i came across somebody who was starting the bidding off on a set of them @ jus 5.99 so i decided to bid & luckily i won then @ 5.99. they came to 10.00 including postage so what a great bargain, heres some pics of the car with the alloys on.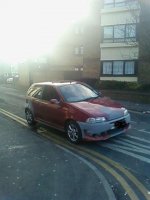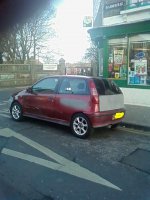 this is all i have done at the moment & it still has a lot of work needed i know.i have ordered an induction kit & that should be here tomorrow so once i get it & put it on i will get some pictures. i will keep you updated with the latest pictures & would appreciate peoples views on it at the moment, obviously some people wont be keen but each to there own & all that. cheers guys.