Introduction
Hello all,

Been meaning to pull together a thread for some time and now I have finally sat down to pull it together

So originally I had a Peugeot 106, first car after passing my test, within a couple of months got fed up of the lack of power and got myself a Peugeot 207 GTi (Big mistake).
After 6 months of running backwards of forward from the dealers with mis-firing / timing issues, i called it quits and they found me a Ford Fiesta ST which I absolutely LOVED.

A year down the line, I am told by my partner that the bun was officially in the oven and I'm going to be a Father
D), now originally I wanted to keep my ST, but seeing the struggles of people with 3-door motors in supermarket car parks was enough to put me off for a life time !

So I was on the market for a decent motor that ticked all the boxes, and thus I found this gem..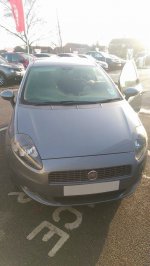 Saying goodbye to...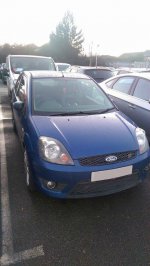 I haven't really got many photos of the progress from step to step but as you'd probably imagine this was a standard example when bought from dealer.

Since then it has had -

- LED Sidelight replacements (what a nightmare!)
- Xenon headlight & fogs
- 40mm Lowering Springs (PI Performance)
- Debadged bootlid (exc. Fiat badge)
- Debadged front grille
- Heko Wind Deflectors
- GSR Induction Kit
- Vinyl Wrap between top and bottom grilles (behind reg plate)

In the future i'm ideally hoping to add...

- Window Tints
- New alloy wheels, hopefully in anthracite colour
- Abarth twin exit exhaust system / similar
- Replacement bucket seats for front
- Abarth Turbo (if i'm allowed
)
- Remap

Here's to hoping I can tick this all off, love this car so far and hope things can only get better!!