Re: could someone tell me my problem on 2000 bravo im guessing fuel pump
---
Hi,

You should hear the pump. It is doing its job which is to, when activated, supply fuel up to the fuel rail on the engine.

If it is not constantly noisy then it should be fine. sometimes when there is a slight blockage in the tank it can cause the pump to work harder and become noisy however this is usually constant.
__________________
Ink Black Coupe,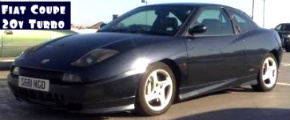 Koni susp' kit, Strut/Subframe bars. Camber bolts, 3g Discs, Yellow pads. Ram air, S.I.P, FMIC, Superspool turbo, Aquamist, Full S/S decat exhaust. Hid's, Le kit and Tan leather.
Alfa 156 16v Jtd-m Ti 150bhp
http://i54.photobucket.com/albums/g1...2006/alfa1.jpg