By default the Abarth doesn't come with a spare tyre, presumably because Fiat are worried about you either putting it on the front and wrecking the brake calipers, or putting the jack in the wrong place and damaging the sideskirts. But as long as the spare is 14" or above and as long as you look for the little triangles on the sideskirts and position the jack under the sill rather than the skirt (about 10cm back from the skirt edge) it fits just fine, assuming you haven't got the 'beats' subwoofer in the spare wheel well. Only thing needed will be a bit of tyre rotation if you've got a flat on the front - the spare won't fit over the calipers (esp Brembos) so you'll need to put the spare on the back, and use a good rear tyre at the front, which is good practice anyway.
Firstly, make sure you're ordering the right spare. 14 inch from another 500 will fit, 15 inch will be too big unless you fit it with a lower profile tyre, and a 13 inch from a standard Punto won't fit over the brakes, so no point in getting one of those unless you're just getting it to increase weight over the rear axle. Also it's nice to get hold of the original plastic holder with the jack, etc to keep everything neat, but if not, buy a Fiat Panda / 500 jack separately. Definitely don't get a spare tyre with a 3rd party jack like some Ebay sellers advertise - the Fiat jack has an extra-deep cutout to fit over the sills and using one with too small a cutout will damage your car and may drop it on your foot!
Next, pop out the bit of expanded polystyrene which holds the pump and can of gunk from the spare wheel well. Simply unscrew the screw thing in the middle, and out it pops. Keep the screw thing and the towing eye - it's much longer than the standard 500 one so you'll be needing that.
Next, the only bit of modification you'll need to do - if you've got the plastic jack tray you'll need to saw a little bit off the corner where the jack handle sits to make room for the Abarth towing eye: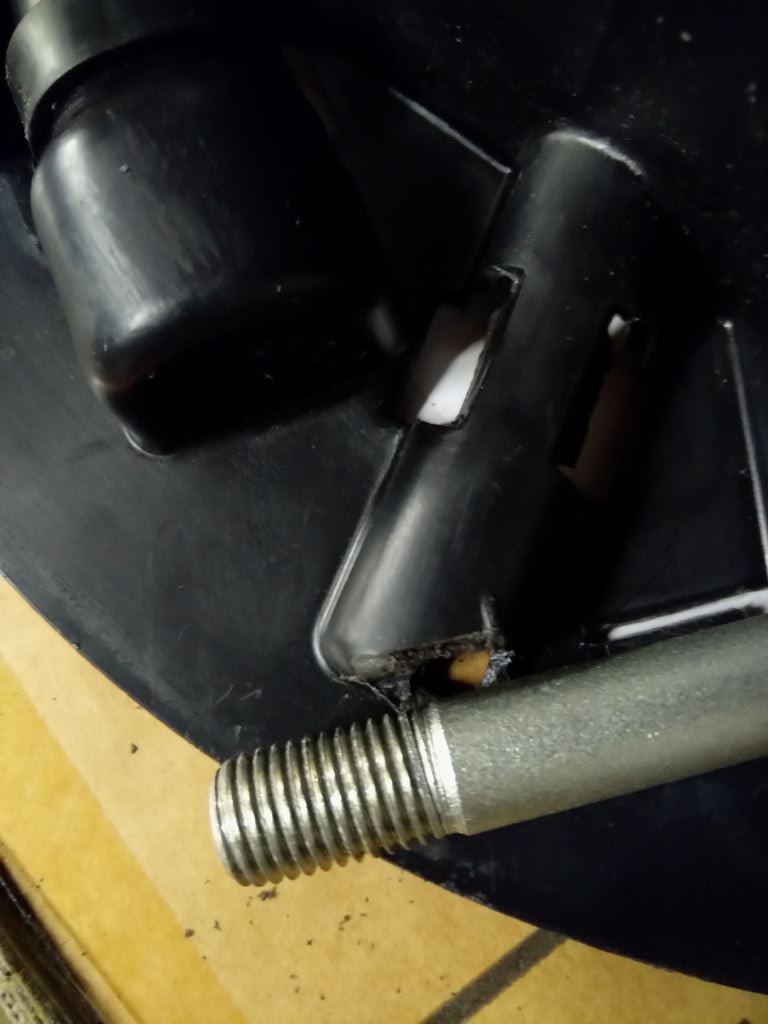 Once the towing eye is in, stick the spare in the boot complete with the jack holder, tighten up the screw thing you retained, and Bob's your uncle