Joined

Nov 18, 2020
Messages

803
Points

258
Location
On a previous thread someone mentioned the use of an occiloscope in Auto diagnostics.
Well i have a ducato and
MES
tells me the injector variances are greater than the FIAT spec of +-2 but under what conditions. So Ive watched a lot of you tube and bought a scope and an amp clamp probe.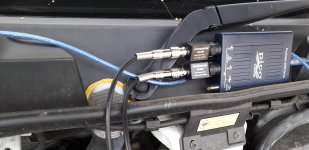 The picoscope is attached to laptop via USB. The injectors are back probed.
The 3 samples here are from injector 1 at idle and 2000rpm
They are presented as is.
Please tell me what they show and what are the important bits to measure both on these and what differences between cylindars. They are obviously complex piezoelectric injectors. Any body have a clue? If someone turned up at my door with a perfectly running van i will be happy to take some golden samples.