Joined

Jul 13, 2022
Messages

1
Location
I have a LHD FIAT DOBLO 7 SEATER - and the 'BRAKE LIGHT' warning signal surfaces from time to time,
and clearly needs fixing (so does my partner who is never ever slow to point it out to me).
My problem is how to gain access to the lights cluster. Below is the MANUAL EXPLANATION, but I cannot match it up to the car's rear section.
I have also included a photos of the rear section in my car. Perhaps some kind person can release me from my frustration.
Many thanks
Versions not equipped with rear brackets:
1) Act from inside the vehicle to remove upper plastic cap C-fig. 27 by means of the screwdriver available, so that light cluster fastening bolt D is made visible.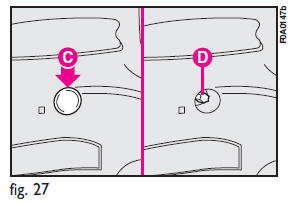 2) Fit e wrench provided A-fig. 28 (used also to remove the wheel) to the fastening bolt of the light unit.
3) Loosen the bolts, then undo the light cluster fastening nuts by means of extension B-fig. 28 supplied with the unit.
As regards the 7-seater version is concerned, undo the light cluster fastening bolt by means of extension B-fig. 28 inserted onto the bolt through slotted hole C-fig. 28a.
4) Undo, after removing the fastening bolt, the cluster fastening screws (located outside), as illustrated in fig. 29.
MY OWN CAR