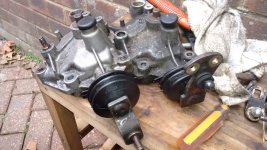 The selector housing on the left is from my Uno. It seems to be damaged as it is "notchy" and struggles to engage gears. I have a spare selector housing from a Siecento but the gear linkage bit is different.
Does anyone have a spare I can purchase or know where to get one? Is there an overhaul kit or some way to renew the inner mechanism? It is welded else I'd try swop them around.
Any help would be much appreciated.