Wipex wiper linkage repair kit guide
I recently had the pleasure of my wiper linkage breaking while driving in heavy rain on the A3 at Guildford – Not very fun at all, LOL
So after eventually getting home I stripped the wiper arms and scuttle panel off to find that the passenger side linkage bar had popped off it's balljoint as the rubber insert was very worn. Below is a picture of my linkage bars after they were removed from the mechanism. The top left insert is the one that was worn, can you see how much larger the hole is than the others?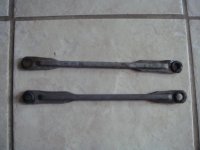 Simple you might think to replace just the linkage bar(s), fair enough really as the cars now covered 120,000 miles so can't really grumble as that's a lot of wiping. So I do some research here on the forum and the web and find that you can't buy the linkages from Fiat separately; you must buy the whole wiper mechanism including motor for £140 but you can buy the motor separately for £100...............strange that isn't it, why can't they then supply the mechanism for £40??
So after searching some breakers and then ebay I drew a blank until I stumbled across an ebay item
http://cgi.ebay.co.uk/ws/eBayISAPI.dll?ViewItem&item=200282209633=
This is a Snap On Push Rod wiper linkage bar set sold by Wipex Ltd for the Fiat Stilo 2000-2005 - Price - £30.80 including delivery.
http://www.wipex.co.uk/index.htm
01684 569733 or e.mail
[email protected]
It is a direct replacement for the two linkage bars that have the rubber inserts that wear due to movement.
I then did some more research on the forum and discovered that some of the Punto boys and gals have used the company before as the Punto is well known for failing linkages on very low mileage.
It was Friday midday and I needed the car back on the road ASAP, I am very wary of ebay and some of the products that are sold on there but I took a gamble and ordered the part from ebay about 1pm.
Saturday morning 930am it arrives through my door, well that's 1st class delivery for you I thought.
I forgot to take a photo prior to fitting of what you get in the kit but here is a photo from the website.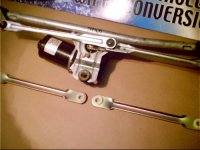 The two bars below the complete mechanism is what you receive along with full fitting instructions. As you can see from the photo which still has the old linkage bars fitted, the Wipex linkage bars are wider in the centre and appear to be made of a thicker metal making them stronger. The inserts at the ends are a plastic secured with circlips and again appear to be of better quality.
See next few pages for step by step guide.