Introduction
So I've had my GP for a couple of months now and I thought it was about time to start a members post!
I have finally got the final piece to the puzzle now that I've found some alloys I like, so next couple of weeks it should just be modding constantly!
So far I have:
Cupra r splitter
De-Badge Front grill
Lowering springs
And now some fox 17" alloys!
Interior wise I have just changed the stereo not sure what else to do inside!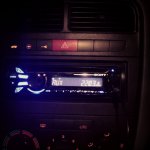 Here's how it is standard: