Introduction
Hi all . Thought it was about time I did this thread.
Back in 2008 I bought rusty the 4x4 panda, form a fate worse than the crusher. It had been a wall, to a pig shed ,resting on the floor with no wheels for many years. The pig had managed to take the door skin off the drivers side and boy did it smell.
£50 later he was bought. Along with a panda super as a donor car. They were both very rusty but the super had good panels, but no engine or gear box.
Here's the first picture after getting it back to the panda shed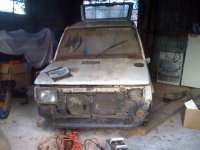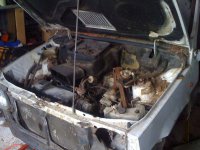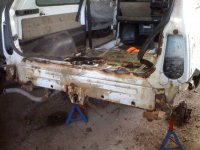 The plan, to get rusty back on the road (Here's were the bet came in). My work mate saw what I had bought and quickly replayed "That's never seeing the road again"
The bet: I had two weeks to get it MOT'ed.
It worked in my favour as this included the Easter bank holiday weekend. The sills were gone, rear panel, front panel, inner arches, floor and doors. The list goes on and on. Once I was into welding it became apparent why it had been abandoned.
But there was no going back, with boxes of parts waiting to be fitted.