Introduction
Hello guys,
She is greek, she has beauty and she is mine
.
i promised some time ago for some pics of my love, but i couldnt due to some problems from the dealer i bought it ( have tired me a lot up until all papers was done ).
Fiorino 2012
75HP (may put tuning box in the future)
Changed gear knob
Put leather covers on steering wheel and handbrake.
Put stainless steel exhaust end
Put fiorino touchpanel stereo, with all functions of steering wheel ( see my post on ICE about how it looks ). It gives you all of that it says. Only bad it dont fit 100% as the factory, but it is almost like it.
Put rear camera ( at the lock barrel of the rear door ), a wide 5" monitor at the position of the interior mirror (work smoothly with on/off switch anytime),
parktronic,
armrest,
Changed air filter with K&N filter,
genuine alarm (META for fiorino)
Back Spoiler for twin door,
new set of wheel covers,
W5W cold white canbus bulbs,
new speakers (needed adapter) and new tweeters,
and some stainless steel covers at few exterior parts..
I dont think i forgot anything important
And this is how it looks today -->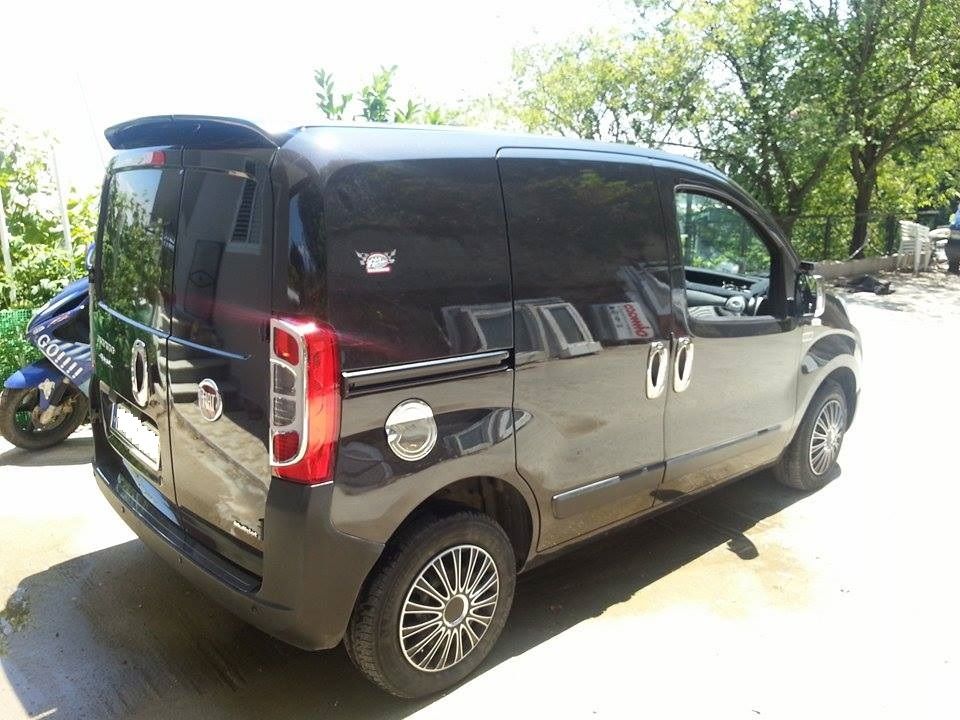 I will put some few more aesthitic changes, but thats all, i have done what i wanted.
Lets say the prons and cons
Pros: Very good interior, very wide windshield, very good and high seat, very good acceleration, generally a vehicle that when you get in you will love it and ride it very easy.
Cons: Im not satisfied of the gear shift and how the gears change.
I was terrified when i discovered that the passenger seat cant move back/forward, not the back, not anything that will make the passenger seat more comfortably for himself. Its a good seat though and very comfortable.
Its radio signal is awful, and the speakers are mediocre.
(i cant say about the fuel consumption because i have done very few KM as far. I will update in the future about the fuel consumption).
Other than this, its a great small but "large" van, that looks like more like a passenger car than a van. It turns smoothly, it accelerates great, you feel very safe inside it.
Because i bought many many accessorries from everywhere in the world, i will give you some tips about each company that i have to say something ( great or bad ).
dash-trim.co.uk --> avoid them, they are located in turkey and you wont find anywhere the real company address, you will wait more than a week to send your order, and dont be suprised when you take it it will be wrong.. And not only that, they will need it back to send you the correct one and the charge will be on you. Email communication awful and very very delayed. The product i received after of all my wasted time and money was mediocre.
tradevanaccessories.co.uk --> very good communication and fast, products very good packed, very good quality, prices very reasonable, generally i liked everything about them.
vanstyle.co.uk--> avoid them. Communication is rare, they told me that one product that is missing of stock will come to 4-7 june ( i did my order at may 6 ! ), and still up today im waiting my order to be sent (OK GOT IT YESTERDAY AFTER 1 AND 3 WEEKS).. With no commucation from them, only an auto-responsive email every week. I dont know the quality, but after 1+ month, it is very sad to deal with such companies.
carbullbar.co.uk --> Company located in Turkey. I could do an order, as I did, I paid it immediately, and after then no commucation at all. After 10 days, I asked paypal to refund me, and still they didn't even reply to paypal!!!! I took my money back in 3 days ( wasted 2 weeks from my life ).
I feel obligated to thank Luigi for all the help, tips, answers he gave me, public or with private messages.
We will stay in touch
Skillage