Introduction
Hi all, I figured the polite thing to do was to introduce myself via my car, since that's why the forum exists.
Last Summer, I came to the realisation that my Audi A3 1.8T was a bit dull. Not slow, not bad, not dangerous, but dull. So I bought a Mazda MX-5, obviously, and enjoyed it immensely. I would definitely recommend it. Great fun, no problems with it. Come winter, I should have sold it on, but I had difficulties letting it go.
Then in January I bashed the front bumper, front wing and (worse) damaged the driver's side suspension and wheel in a low-speed ding. Fixing it was "uneconomical". Bye-bye Mazda! Dang.
So I needed a car. I knew it had to have a roof, for roof-bars, as I had been scabbing lifts from friends to go biking, kayaking and climbing for too long. There was literally only one car I wanted. A Panda 100hp! I had never driven one. I had never even sat in one. But I wanted one.
Prices have finally fallen after holding pretty firm. The range is still wide (anything from £2k-3.5k for 07/08 with 50-80k miles and FSH). So I started the hunt. I'm in Birmingham and carless, so I had to wait for a local-ish option. I tried a normal 1.1 to make sure I fitted, I'm 6'3". It was fine, more than fine. Comfortable, and even the little engine was fun, leaving me more sure of what I wanted.
Then, nothing. Nothing in the West Midlands. For a month. A nice one in Reading, £2400. Could I come have a look at the weekend? Sure. Oh no, it's sold. None of them were hanging around, still a popular little car!
And then finally, one within 40 miles of me. A Crossover Black, in Telford, 60k miles, full S/H, mostly Fiat. No bangs or bumps. Set up a visit the same evening, hopped on a train straight after work.Loved it. A lower-end-of-the-market price. But with less than 2 months MOT. Hmmm. Owner was very genuine, agreed to retest by the end of the week.
"If it passes the MOT, I'll buy it."
It did. I did.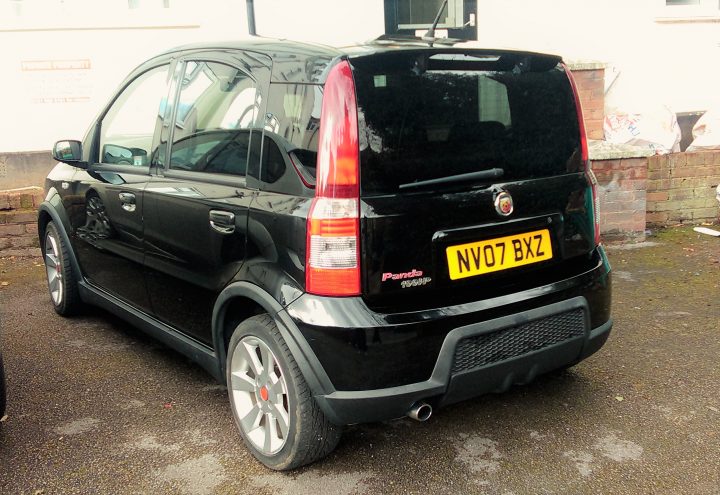 (Better pictures to come after a good scrub!)
I removed a couple of Decals. There are some paint-chips, and slightly kerbed alloys, with Abarth scorpion centre badges. It has Abarth badges front and back too, which I think I will return to normal Fiat ones. Painted (slightly roughly) red calipers, which I suppose I'll have to touch up because I can't be bothered removing the paint.
I've had it a month. It needs a good clean, which I hope to do tomorrow. It is a tight-turning little thing, very lively. Different from the MX-5 in so many ways, but I found myself enjoying it a lot. I'll miss the ability to take down the roof and wiggle a bit coming out of a roundabout, but being able to jam all my stuff in the back or on the roof and escape from Birmingham will more than make up for that!