Introduction
picking the car up tomorrow so not got any of my own pictures yet, but here's my car-to-be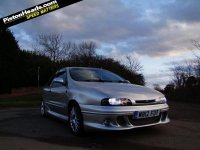 basically copied from the advert;
1.2 16V SX Engine.
Full factory Fitted Arbarth Body Kit.
Tinted Windows.
Cone air filter.
Chrome racing mesh in the front grill (Much more apealing from the orginal chicken wire!).
Microscan alarm system with remote central locking (two sets of keys with fobs).
Upgraded Interior ( from the standard purple seats to the blue and black seats).
Spax Racing Shocks
Lowered 25mm on spax springs.
15" Fox Racing Wheels
look forward to getting it. my first fiat, so im prepared for any electrical gremlins it may develop lol!
will get more pics/details when i get it
hope you like!