Hi
I bought 2 of these kits (both doors, inside and out) for my 126 from Axel Gerstl because I couldn't find black ones in the UK.
https://webshop.fiat500126.com/en/d...dow-frames-_black_-with-seal-_-set-for-1-door
However, although they're advertised as fitting the 126, they don't fit the Polish cars without quarterlights.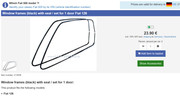 Furthermore they can't be modified to fit the "no quarterlight" doors as the felt area that sits against the glass does not go the full length.
It's hardly worth returning them to Germany so I'm offering them for sale here.
They cost me 24 Euros each plus 19 Euros postage - 67 Euros less German VAT - so about £45 the pair.
Anyone interested at £25 incl UK post?