Myself and Alex over the last 24 hours have been composing a table for everyones benefit based on breakdown cover.
Obviously people when taking out
insurance
, get breakdown cover included within their
insurance
package. However there are some of us, to save a few quid, dont take advantage of this offer, instead choosing to get cover at a later date, some of us, even not bothering at all.
For those who dont get cover, or those choosing to get some at a later date, ever wondered what the best deal is? which is the service to go with? what do you get included in the deal, well me and Alex have composed a table for you all comprising of the three mainstream breakdown companies, the AA, RAC and Green Flag, the various options you may pick, and what is included within that option.
Hope you like and find this beneficial.
Regards
John (AppleSei) and Alex (Alex
)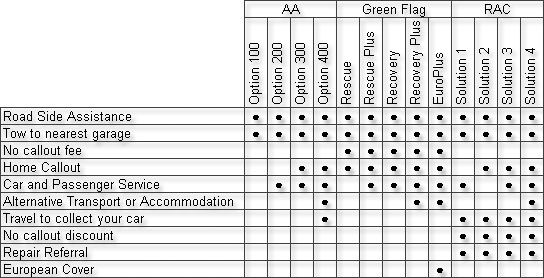 Source:
RAC
,
AA
, and
Green Flag
websites accurate as of 3 Nov 2005. Please check these websites before buying your policy.