There are no bushes on a track rod end! There is a dust cover for the ball joint. That is the tapered bit that will be damaged.
It should look like this: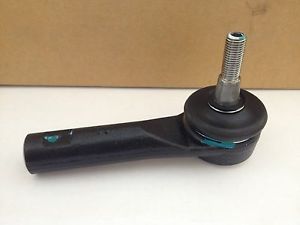 I assume you have damaged the threads on the tapered end that attaches to the hub?!
Best way is to put the tapered end back into the hub and hold it in place while you use it's own torsion against it.... If you can heat up the lock nut on the steering arm end, do so, then use a vice grips to undo it (a rubber mallet also helps to smack the vice grips and shock the nut loose).
The steering arm should have a nut shaped section along the length to allow adjustment in a wheel alignment, normally 12/13mm. Undo the vice grip and clamp it around this section, place the ring end of a spanner onto the damaged tapered end (that you will have pulled out of the hub section) and start turning the track rod end off.
Only undo the locking nut a quarter turn so you can attach the new track rod end to almost the correct place and lock it up.
You will likely need a wheel alignment. Look online for Halfords Auto Centre or National Tyres in your area and look for special offers like half price wheel alignment