​
Auto Italia has joined forces with the Ferrari Owners Club to create a new all-Italian event at Sywell Aerodrome. Centrally located near Kettering in Northamptonshire, Sywell is home to motoring and aviation collections with art deco-style hangars and superb display areas. There will be club displays, although access is open to all Italian cars. Selected cars will take part in taxi-way demonstrations and there will be high speed runway runs for invited, special cars.
What will be there?



Meguiar's Pride of Ownership
– Members that keep their car in immaculate order can have them judged on the day. Entry is FREE and the prize is the Meguiar's Trophy and Car Care Kit plus the VIP 'Day in the Bay' at Meguiar's HQ to learn detailing techniques. Hosted by the experts and with lunch included. Please contact Chris Leach at the Ferrari Owner's Club office on 01327 855430 to enter your car or email us at
[email protected]
Pirelli Car Club Stand of the Day
– Judged on the day, Pirelli will award the best car club stand the Pirelli Trophy
Car Stage
– please out forward special cars to be brought onto the live stage during the day, cars and owners with a story to tell or significant history, we want to hear all about it.
Lockton Showcase
– Some of the finest examples from Ferrari, Lamborghini and Maserati will be on show in Hanger One
Runway Runs
– cars are selected by Auto Italia to have 4 x runs on the Sywell Runway – contact Phil Ward to register your interest-
[email protected]
Food -
keeping with the Italian theme – Pizza and Pasta outlets will be on the airfield, along with the usual breakfast and British favourites catering, proper coffee and ice cream
Aviator Hotel
– bar and restaurant is open all day
Pilots Mess Café
– the best view of the airfield and runway form their balcony – open all day
Silverstone Ales
– Their pop up pub will be on the airfield with their range of ales
Exhibitors
– clothing retail from katherine Partis, Dura Garages, Andrew Hill Art, All Auto Books, Serengeti Sunglasses, Shawbury Wine, Scorpion, Chartwell and Meguiar's will be some of the companies in the main marquee and airfield.
The FF Stand
EVERYONE IS WELCOME! Don't be shy!
This is a great opportunity for newbies to meet fellow Fiat owners, socialise and talk about your pride and joys (if you want ). Come along, chill out on the stand, have a nosey at other members cars and enjoy a fantastic day out!
Parking on the day
Although the event starts at 10am for the general public, we get an earlier
9am
entry to allow us to get our stand sorted out.
So please try and get in as close to 9 as possible (use the left hand lane) and head over to our stand position (See map below - just behind the bikes)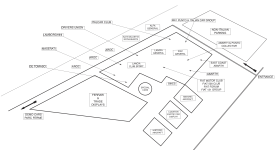 Tickets
All pricing is per car, so cram all your mates in the boot
£15 in advance
£25 on the door
All details
here
including advance tickets and paying on the day.
This year it's an electronic ticket, so you will need to print the booking confirmation and bring it with you to the event.
How do I signup?
Well firstly
EVERYONE IS WELCOME
and indeed the more the merrier - there's just a few things we ask of you:
Please click the RSVP button at the top of this thread



Fill in the Event Registration form found at the bottom of your account details.



Link: How to guide on registering your vehicle
Download the Stand Pass, fill in your username at the bottom, cut it out and remember to keep it hanging on your rear view mirror all day!
Where is it?
Sywell Aerodrome
Hall Farm,
Northamptonshire,
Sywell NN6 0BN
Hope to see as many of you there as possible!
The Events Team
Last edited: